DC has released a preview of this week's The Flash #2 at, of all places, Maxim. (DC has been plugging its new comics all over the mainstream press these last two months, rather than simply sending the previews to the comics press. Issue #1 was previewed at USA Today, for instance. Co-writer Brian Buccellato jokes that it's "all about the exposure.") Teen Titans #2 also ships this week, featuring Kid Flash. Finally, the hardcover collection of Flashpoint arrives in comic stores this week, and bookstores next week.
The Flash #2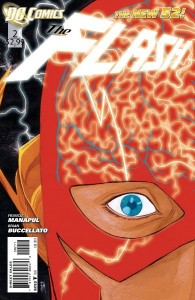 Written by FRANCIS MANAPUL and BRIAN BUCCELLATO; Art and cover by FRANCIS MANAPUL; Variant cover by GREG CAPULLO; 1:200 B&W variant cover by FRANCIS MANAPUL
The Fastest Man Alive learns he can make his brain function even faster than before – but as much as it helps him, it also comes with a steep price. Plus: The mystery behind Barry Allen's friend Manuel Lago deepens as Barry investigates his kidnapping at the hands of Mob Rule!
DC Universe 32pg. Color $2.99 US
Newsarama has posted the first part of a two-part interview with Francis Manapul and Brian Buccellato, and we have the Greg Capullo variant cover.


Flashpoint (HC)
Written by GEOFF JOHNS; Art by ANDY KUBERT and SANDRA HOPE; Cover by ANDY KUBERT
The red-hot, sold-out five-issue miniseries from Geoff Johns and Andy Kubert is back in a new hardcover!
This is Flash Fact: When Barry Allen wakes at his desk, he discovers the world has changed. Family is alive, loved ones are strangers, and close friends are different, gone or worse. It's a world on the brink of a cataclysmic war – but where are Earth's Greatest Heroes to stop it?
It's a place where America's last hope is Cyborg, who hopes to gather the forces of The Outsider, The Secret 7, S!H!A!Z!A!M!, Citizen Cold and other new and familiar-yet-altered faces! It's a world that could be running out of time, if The Flash can't find the villain who altered the time line!
DC Universe 176pg. Color Hardcover $22.99 US
Update (Wednesday): DC's blog says it's out next week, but their main website still lists Oct. 26. Actually, it refers to the "wide release" – so maybe they mean to the bookstore release. It's still morning here, so it'll be hours before I make it to the comic store today to see for myself whether they have it or not.
Teen Titans #2
Written by SCOTT LOBDELL; Art and cover by BRETT BOOTH and NORM RAPMUND
A strange creature haunts the streets of Los Angeles… and because of this creature's age, both Red Robin and N.O.W.H.E.R.E. are racing to find her – but neither side is prepared for the horror known as Bugg!
Meanwhile, Superboy is on a collision course with the team, and Kid Flash plots his escape from N.O.W.H.E.R.E. with the most unexpected of allies!
DC Universe 32pg. Color $2.99 US