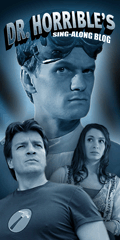 Tonight I watched the first two episodes of Dr. Horrible's Sing-Along Blog, the web feature by Joss Whedon (Buffy the Vampire Slayer, Serenity). It's a comedy about Doctor Horrible, mad scientist super-villain (Neil Patrick Harris); Captain Hammer, the super-hero who keeps beating him up (Nathan Fillion, Serenity); and the girl from the laundromat whom he's too shy to speak with (Felicia Day).
It's funny. It's quirky. It's short (3 episodes at ~13 minutes each). It's structured as a video blog intercut with narrative scenes. And yes, there are songs. (They remind me of a cross between the Buffy musical, "Once More With Feeling," and of all things, Moulin Rouge.) Though I still get "Someone Keeps Moving My Chair" running through my head with slightly altered lyrics. "Dr. Horrible. Dr. Horrible. Telephone call for Dr. Horrible…"
Episodes 1 and 2 are up for free right now. Episode 3 goes up on Saturday. Then the whole thing goes offline on Sunday. There's a panel next Friday at Comic-Con, and they plan to offer it as a regular paid download and eventually a DVD.

And believe it or not, there is a very tangential connection to The Flash. First, Neil Patrick Harris did the voice for Barry Allen in Justice League: New Frontier (see my review). And second: Look at the insignia on Captain Hammer's chest. Now look at the costume for Bizarro Flash (left). Okay, it's a gavel, but it's close, right? 😀
Update: I realized that the show reminds me of something else Flash-related: the first appearance of Dr. Morlo in Impulse, in which they track down the mad scientist by looking at his website.

Share