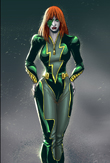 Top Cow's Velocity comic book by has been pushed back from November to a January launch. Publisher Filip Sablik on the CBR forums:
We hit a "speed bump" (ouch!) and rather than stick with the original solicitation schedule and end up with a late book, we opted to push Velocity back to a January launch. The delay in solicitation will ensure that the series will come out in a timely fashion and Joe Casey and ChrisCross have the time to make this series truly butt-kicking.
Speed Force lost the fight for the #3 spot at Comic Blog Elite when long-established blogs The Absorbascon and 4thLetter! signed up. Now it's trading off spots 5 and 6 with downthetubes.net.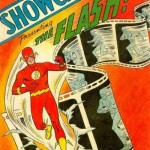 Asgard Press is publishing a Vintage DC Super-Heroes Calendar for 2009, featuring covers from the 1930s through 1960s. It's a 16-month calendar, and October 2008 features the cover to Showcase #4, first appearance of the Silver-Age Flash. (The Golden-Age Flash Comics #37 gets a spot too, but it's a Hawkman cover.)
Speaking of Comic Blog Elite, MTV sent them a request/press release about casting for True Life: I'm a Fanboy: "If you appear to be between the ages of 16 and 28, and want to share the story of your fantasy obsession, email us at fanboy@mtvn.com with all of the details. Be sure to include your name, location, phone number and a photo, if possible."
Share