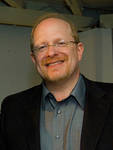 BOOM! Studios has promoted Mark Waid to Chief Creative Officer, promoting Managing Editor Matt Gagnon to succeed him as Editor-in-Chief.
It's interesting that the two writers who have been most closely associated with the Flash over the past 25years, Geoff Johns and Mark Waid, now share the same executive title at different companies!
On a related note, BOOM!'s Comic-Con schedule is up, including signings and sketches. I've updated the Flash at CCI post with Waid's signing schedule.
Share