Just wondering, since I do a lot of link-sharing and occasional commentary that fits multiple social networks. If you're following someone on more than one network, and they post the same thing to both, would you rather get it out of the way all at once, or see it staggered over time?
This doesn't apply to "A new post is up!" notifications – IMO those should always go up immediately. I'm thinking more along the lines of a minipost that can fit in a Facebook status, or links to other sites, or links back to older posts that have become relevant again. Stuff that's not time-critical. [Edited to clarify.]
Also, assume the cross-post is properly tailored for each network, so you don't have #hashtags on the Facebook post, the Twitter post doesn't link to a Facebook status, links on Google+ and Facebook have previews, etc.
Thanks!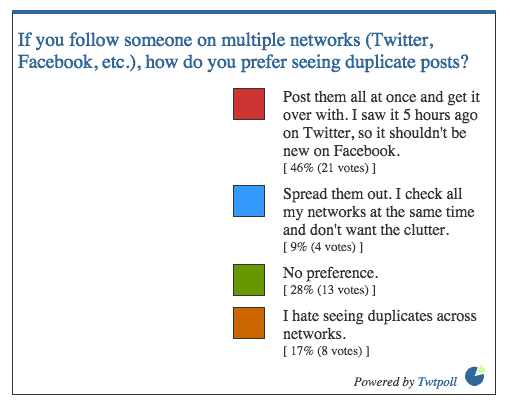 Share