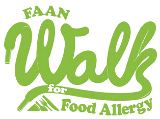 The Los Angeles Walk for Food Allergy is coming up in two weeks, and my team has reached 1/3 of our fundraising goal! A huge thank you to xBarryAllenx, Wayne, Ken, Jesse and Shag for donating, and to Greg, Devin, Lia, xBarryAllenx, Collected Editions, Ken, SpeedsterSite and Matt for helping spread the word! (My apologies if I've missed anyone.)
We've still got a little over $800 left to reach our goal, and your donation can help us get there!
Allergies can kill in minutes. There's no cure yet, and it's still unclear what causes them. Please help me raise funds for FAAN's mission of research, education, awareness and advocacy.
You can donate here, or read more about why I'm walking.
Thank you!
Share