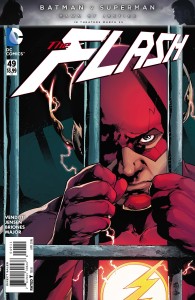 Freaksugar has a preview of Flash #49, out in stores on Wednesday.
On the run from a police task force assigned to take him out, The Flash must face the CCPD's newest deputies: The Rogues. As you can tell from the cover, it does not go particularly well.
Written by Robert Venditti and Van Jensen, art by Philippe Briones. Cover by Ivan Reis, Joe Prado and Adriano Lucas.
Share