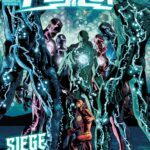 DC has posted a handful of preview pages from next week's issue of Flash #2, and you can see them at Adventures In Poor Taste. The preview picks up where the last issue left off, with that horrifying new extradimensional creature attacking Wally and the gorillas. Check it out at the link!
THE FLASH #2
Written by SI SPURRIER
Art by MIKE DEODATO JR.
Cover by MIKE DEODATO JR. and TRISH MULVIHILL
Variant covers by MIKE DEODATO JR. and BJORN BARENDS
1:25 variant cover by JAMES HARREN
1:50 variant cover by MATT TAYLOR
Artist Spotlight variant cover by GABRIELE DELL'OTTO
$3.99 US | 32 pages | Variant $4.99 US (card stock)
ON SALE 10/24/23
As Wally West faces massively powered-up old foes as well as a new, mysterious being, he encounters a group of alien explorers who are very interested in Wally's powers (which continue to glitch). Also, something seems to be literally bubbling up in Keystone City, as the new era for the Scarlet Speedster continues!
New Character Debut: THE STILLNESS!