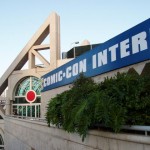 Some suggestions for making the most of comic conventions, based on personal experience. The list is focused on Comic-Con International in San Diego, but most tips also apply to other conventions and cities.
Planning
For SDCC: If there's even the slightest chance you'll want to go, sign up for a Member ID on their website now, so you'll be eligible to buy tickets. This will also sign you up to be notified when they go on sale. Tickets are online pre-sale only, and sell out within an hour or two.
For other conventions, it's still worth pre-registering once you know you're going. You'll usually save money, plus won't have to stand in as long a line (or at least the line you stand in will move faster).
Start checking deadlines early for masquerade, booths, tables, etc. They may be months before the con.
Take an extra day off after the con to recover (i.e. sleep), especially if you're traveling.
You can't pick your days around specific events because the schedule is never finalized until about two weeks before the con. But there are patterns:

Wednesday/Preview Night usually has one or two screenings, and not much else.
Friday and Saturday usually have the highest-profile events. Saturday is also the most crowded on the convention floor.
Friday also usually has a lot of Star Wars events.
Sunday is lighter on events, but also has a lot of kid-friendly programming.
Don't be afraid to skip a day when purchasing tickets. Between offsite events/exhibits and unrelated attractions (museums, zoo, harbor, etc.), you'll find something to do. And it'll almost certainly be less stressful.

If you have the time, take the whole week off and make it a vacation.
Where to Stay
Keep an eye on when the convention hotel block opens. SDCC hotels sell out in a matter of minutes.
The con has an "early bird" hotel sale for those who already have tickets. Options are limited and non-refundable, but you actually get to choose.
Find roommates to share the cost of the hotel room (or suite).
You can try to book directly through a hotel, or through a travel site like Expedia, Travelocity, Priceline, or Hotwire – but do it as early as possible (I mean the previous fall, assuming they don't just block off those dates entirely), and expect to spend more than the con rate.
When booking with a hotel chain, either through the con or on your own, make absolutely certain you reserve at the right location! (It seems obvious, but at 1AM it's an easy mistake if the chain has several hotels in the same city.)
Look into short-term condo rentals, but again, do so waaay ahead of time.
Stay with friends or relatives who live in the area.
Stay farther out and commute. If all you need is a place to sleep and shower, you don't have to stay downtown.
If you can't get a hotel, or want a closer one, check again after deposits become non-refundable. Some rooms always free up.
Ask your hotel about storing luggage if you check out before the con ends, or if you check in after it starts. (You may also be able to arrange early check-in.)
Once you get to the hotel, don't be afraid to (politely) ask for extensions/changes. I actually managed to extend my hotel stay by an extra night in 2013 because someone canceled that morning. But don't rely on it being possible.
Right Before
Get cash at your local bank branch so you don't have to stand in line for the lobby ATM.
Use your bank's website to locate branches/ATMs near the con and your hotel before you leave.
Plan what you're doing each day before you arrive, but don't count on more than 3 big events a day.
Transportation
Parking downtown is scattered and expensive. Park once and take public transportation if you need to go somewhere.
Comic-Con has started offering pre-paid parking. Take them up on it!
Be sure your downtown map clearly marks the direction of one-way streets.
If you live near the Southern California coast, consider taking the train. The Downtown San Diego station is next to a trolley stop, and about 20-25 minutes' walk from the convention center.
If driving, leave early to get a parking space. They fill up quickly.
Shuttles run to most of the hotels in the con block, including downtown, Mission Valley, and near the airport.
Locate your hotel shuttle stop and see which section of the convention center is closest.
Trolley System
Get a multi-day Regional MTS pass to get around Downtown San Diego. If you don't already have a Compass Card to reload, allow shipping time.
Mission Valley and Old Town have Green Line trolley service straight to the con.
There are 2 trolley stops near the convention center: Convention Center and Gaslamp Quarter.
Maps and schedules are on sdmts.com. Here's a direct link to the trolley map.
Downtown trolleys run every 15 min/day, 30 min/evening, until around midnight (later on weekends)
Trolleys are crowded, especially on Fri and Sat, so plan for at least 30 min delay.
Packing
Plan to walk a lot. Wear comfortable shoes, even with costumes.
If you heavily use a power-hungry phone, carry a battery extender so you can recharge w/o a socket.
Bring a light jacket for the evening. Sometimes it cools off right by the ocean.
Bring a spare battery for your camera so you can swap it out if it dies in the middle of the day.
Bring at least one set of nice clothes in case you want to go out one evening.
Remember to pack chargers and data cables for all your electronics.
At the Con
You will feel overwhelmed your first day, every year. You may get used to it by the end.
Arrange for meetups before heading to the con. Cell phones are hard to hear on the floor.

Followup from @batmansgirl: set your phone to vibrate and use texting.

Check your phone regularly for new messages. You won't hear it ring on the floor, and you might not feel it vibrate.
Wear a watch. It's a lot easier to glance at your wrist in a crowd.
Keep your camera easy to reach with a neck strap or in a front pocket. Or carry it—but use a wrist strap so you don't drop it.
For exclusives, figure out exactly where the booth is and go straight there when the hall opens.
Find out specific autograph/giveaway procedures as early as possible.
Bring a backpack! But remember you're wearing it when you turn around quickly.
Room security and Elite security are two different things.
If the room monitors ask you not to save seats, then don't save seats. We'll all thank you.
It really is easier to get seated at a busy panel if you don't leave empty spaces in the middle of the row.
Visit the art show, but remember: no water bottles allowed.
Bring plenty of cash. Use a debit/credit card where you can so you don't run out of cash for places you can't. That said, Square and similar phone/tablet-based payment methods have made it possible for a lot more vendors accept credit cards than used to in the old days.
Saturday is the most crowded on the main floor, but also the best day for spotting costumes.
If you wear a recognizable (or sexy) costume, expect to be stopped frequently for photos.
Stay healthy! Wash your hands, bring hand sanitizer & cover your mouth if you cough. Lots of people from different regions crowded together for a weekend is a recipe for the "con crud."
If you buy something big or fragile that you don't want to take home in your luggage, use the FedEx shipping center in the lobby.
Kids
(From Comic-Con with a Stroller: Parents and the Under-Five Set.)
If you're overwhelmed, remember your kids will be even more so. Try not to overload them!
With small children (under five) it's probably best to only bring them one day of the con. That gives you time to meet most of your goals, and scout out things they might like to do on the day you bring them.
SDCC has Kids' Day on Sunday, but most of the programming is aimed for kids five and up.
SDCC also has an hourly child care open to attendees and exhibitors. A few hours playing with other kids will give them a chance to recharge and you a chance to run around the con.
If your child is young enough, they'll need both a stroller and somewhere to run around. Be careful, though: people in crowds don't see strollers, they see an empty space.
If your child needs a stroller, keep it small so it doesn't block the aisles. And check the con's policy: SDCC bans double-wide strollers on the main floor, and all strollers have to be parked outside event rooms.
The LEGO booth is a great place to take a child who has run out of attention span.
If your child is into dress-up, let them choose a costume. They'll have a great time cosplaying. Be aware that people will want to take photos, and establish ground rules with your child.
Unless your child is very quiet, you probably shouldn't bring them to panels that don't interest them. Plan for lots of switching which parent is in a panel and which is hanging out with the kid.
Online, During and After
Wi-Fi is usually available in parts of the convention center. It's frequently jammed, though.
If you see both free wifi and a paid hotspot on a service you already subscribe to, go with the paid service. It'll be less crowded.
If you need to get online but can't connect on the convention floor, hit a nearby hotel lobby.
Hotel internet access is often faster early in the morning than late at night, because fewer people are using it. That's the time to upload your photos.
Cell reception can vary a lot by carrier in some convention centers, especially those with basement exhibit halls (Long Beach, I'm looking at you.)
If you want to update multiple social networks from the con, don't spend time posting to all of them on a busy connection. Pick one and have it sync to the others using built-in connectors or IFTTT.
Tag your photos by convention+year and topic. Examples: #ComicCon2016, #SanDiego, #cosplay, #SDCC, #TheFlash.
Look for photo pools/groups dedicated to the convention (ex: SDCC on Flickr) or topics.
If you aren't posting photos instantly but do want to share them, post them nightly or as soon as you get home. Interest drops off quickly after the con is over.
Events and Panels
Pick one major event per day and don't worry about trying to get to the others.
Allow 2.5 hours of lead time for the really big panels.
If you pass a restroom on the way to a long panel or line, use it while you have the chance.
The Quick Draw! panel is always fun. It's cartoon improv with Sergio Aragonés, Scott Shaw! and a rotating third artist.
Scott Shaw's Oddball Comics presentation is also good.
The masquerade is free, but you need to get tickets Saturday afternoon.
If you ask a question at a panel, just ask the question. Don't spend 5 minutes praising the show first.
Food
Buy a sandwich in the morning (Ralph's, Subway, etc.) and put it in your backpack for lunch.
Pack snacks and water so you can stand in event lines instead of snack lines.
When bringing in food from outside, bring a napkin too. Or at least grab a paper towel from the restroom first.
There's an additional food court on the mezzanine where some of the small fan booths are.
Have a nice dinner or a good lunch at a restaurant in the Gaslamp District. Tip well.
Visit the restaurant reservation desk near B2 in the convention center lobby for menus and prices.
Little Italy is another good area for restaurants.
Take a Break
Tour historical ships at the San Diego Maritime Museum one morning or afternoon.
See a play or concert at a downtown theater like the Spreckels, Lyceum, Horton Grand, House of Blues etc.
Visit Old Town San Diego. Stop by the coffee house and buy some Highlander Grog.
If you have an extra day, check out the San Diego Zoo, the Safari Park, Sea World, or the Fleet Science Center.
Further Reading
Con reports and photos for 2003 onward, including:

Comic-Con International (San Diego), 2003-2014 – more than a decade!
WonderCon (San Francisco, Anaheim & Los Angeles), 2008-2019
Wizard World: Los Angeles / Anaheim Comic Con, 2007-2008 & 2010.
Long Beach Comic Con, 2009-2019
Comikaze Expo / Stan Lee's Los Angeles Comic Con, 2011 & 2016

Convention photos at Flickr starting 2009.