DC has posted their full complement of solicitations for August 2023, and here are all the ones relating to the Flash. Things are sparse that month, since the Knight Terrors event is occupying much of the lineup and the Flash isn't playing a major role in it. But there is a Flash tie-in issue, and an unrelated swimsuit edition which looks fun. The relaunched Flash solo book is set to begin in September, so look for that solicit next month.
You can see the solicitations in full at Adventures In Poor Taste.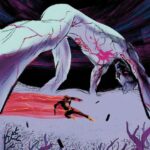 KNIGHT TERRORS: THE FLASH #2
Written by ALEK PAKNADEL
Art by DANIEL BAYLISS
Cover by WERTHER DELL'EDERA
Variant covers by TAURIN CLARKE and DANIEL BAYLISS
1:25 variant cover by KYLE HOTZ and MIKE SPICER
1:50 variant cover by RAFAEL SARMENTO
$4.99 US | 32 pages | 2 of 2 | Variant $5.99 US (card stock)
ON SALE 8/8/23
As Barry Allen plunges deeper into the Nightmare Realm, he's confronted with his biggest fears and experiences some of the most shocking events that took place before his return! Barry continues to run free of the terror, but something's gaining on him…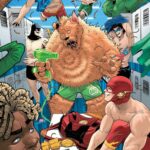 G'NORT'S ILLUSTRATED SWIMSUIT EDITION #1
Written by STEVE ORLANDO and others
Art by PAUL PELLETIER, NICOLA SCOTT, MIKEL JANíN, JEFF DÉKAL, DANIEL SAMPERE, GLEB MELNIKOV, DERRICK CHEW, STANLEY "ARTGERM" LAU, EMANUELA LUPACCHINO, JOËLLE JONES, MEGAN HUANG, TERRY DODSON, BABS TARR, PETE WOODS, JOE QUINONES, HÉLÈNE LENOBLE, OTTO SCHMIDT, MICHAEL ALLRED, SWEENEY BOO, DAVID TALASKI, JENNY FRISON, and others!
Cover by VASCO GEORGIEV
Variant cover by J. SCOTT CAMPBELL
Variant cover by ADAM HUGHES
1:25 variant cover by PABLO VILLALOBOS
$5.99 US | 48 pages | One-shot | Variant $6.99 US (card stock)
ON SALE 8/29/23
You may know G'nort as the bumbling Green Lantern who protects Space Sector 68. Then again, you may not know G'nort at all. Whatever the case, get ready to see him in his newest role as host and proprietor of this very special swimsuit edition comic! Join our favorite fuzzball as he showcases some of our best swimsuit covers and our most swim-tacular stories! From the Flash in a Speed Force Speedo to Batman in a bat(hing) suit, this very special one-shot is summer fun from (bikini) top to (bikini) bottom.
Also collecting some of the steamiest swimsuit covers from DC's best talent, all in one place for the very first time!