There are no Flash-specific titles this week, but the Golden-Age Flash, Jay Garrick, appears regularly in Justice Society of America.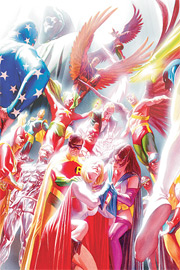 "Welcome to Earth-2!" Power Girl has made a life for herself on our world, as a member and chairwoman of the Justice Society of America and as a hero in her own right.
But she's never stopped dreaming of one day returning to her Earth — the parallel world where the members of the Justice Society were the only heroes. Where her best friend was Helena Wayne, the daughter of Batman. And where evil was a little easier to fight…wasn't it? As her greatest wish comes true, Power Girl's about to find herself back on Earth-2, surrounded by friends she thought she'd lost forever.
Written by Geoff Johns; Art by Jerry Ordway; Cover by Alex Ross
Update: As it turns out, the Flash doesn't appear in this issue, except as part of a full-team pin-up.


Share