DC has posted its solicitations for October 2008.
The Flash #245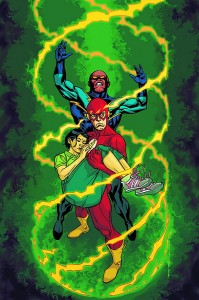 Flash learns that nothing is safe anymore as Queen Bee causes an attack on his house and Linda. Guest-starring Black Lightning!
October 15, 2008. Written by Alan Burnett. Art by Paco Diaz and Drew Geraci. Cover by Brian Stelfreeze.

Team books and more after the cut:
Team Books and Events
Final Crisis #5

Humanity enslaved! Time shattered and bleeding! Anti-Life triumphant! Can Earth's demoralized, beaten heroes rally their scattered forces for the ultimate super-battle against the nightmare armies of Apokolips when the forces of good meet the forces of evil on the bridge to Blüdhaven? As Darkseid's presence causes reality itself to sicken and the lights to go out across the universe, as even the Guardians fall, the true power of the evil gods finally reveals itself, and a major character returns for a shocking conclusion.
Does the secret of humankind's salvation lie in a mysterious cave painting and a bolt of lightning? Or has the Last Day come for us all?
October 29, 2008. Written by Grant Morrison. Art and covers by J.G. Jones, Carlos Pacheco & Jesus Merino.

Final Crisis: Legion of Three Worlds #3

The Legion of Super-Heroes call in the reinforcements against Superboy Prime and the Legion of Super-Villains as the Crisis of the 31st Century continues. While Superboy Prime comes face-to-face with the last of the Green Lanterns, Brainiac 5 and XS attempt to ignite an electrical storm using the lightning rod, which is destined to turn the tide of the war. And what are Polar Boy, Dawnstar and Wildfire up to in the 20th Century?
October 22, 2008. Written by Geoff Johns. Art by George Pérez & Scott Koblish. Covers by George Pérez.

Justice League of America #26

The JLA stands helpless against the power of Anansi, the African spider god who has warped their histories. Vixen makes her final stand, brokering a deal with the powerful villain. But will she be forced to sacrifice the JLA and Animal Man? Or does her last-ditch effort mean something far worse?
[Note: Yes, that's Impulse on the cover!]
October 22, 2008. Written by Dwayne McDuffie. Art and cover by Ed Benes.

Justice Society of America #20

It's the Justice Society of America vs. the Justice Society Infinity of Earth-2 with the fate of Power Girl at the center of it all! Meanwhile, Starman struggles with his returned sanity as he embarks on his true mission in our time period—one that will have vital consequences for the Crisis of the 31st century!
October 29, 2008. Written by Geoff Johns & Alex Ross. Pencil art and variant cover by Dale Eaglesham. Cover by Alex Ross.

Tangent: Superman's Reign #8
The Tangent Superman's assault on the DCU Earth continues, and his quest to make the world "safe" for normal people is set to crush all metahuman resistance in its path!
October 22, 2008. Written by Dan Jurgens & Ron Marz. Art by Wes Craig & Fernando Pasarin. Cover by Matt Haley.

Collected Editions (November)
JLA/Avengers TP

The once-in-a-lifetime crossover that brought two super-teams together and rocked the comics world is at last available in trade paperback! Own the entire 4-issue co-publishing event between DC and Marvel and written by Kurt Busiek (TRINITY, Marvels) with stunning art by George Pérez (Final Crisis: Legion of Three Worlds, Avengers). This collection also features introductions by original Avengers writer/editor Stan Lee and Justice League of America editor Julius Schwartz.
[Note: This series featured both Wally West and Barry Allen.]
November 12, 2008. Written by Kurt Busiek. Art and cover by George Pérez.

Countdown to Final Crisis vol.4 TP

The fourth and final Countdown to Final Crisis TP is here, collecting stories from issues #12-1 and featuring an all-new cover by Adam Kubert! Don't miss this epic's conclusion, starring Jimmy Olsen, Mary Marvel and The Challengers from Beyond.
November 19, 2008. Written by Paul Dini, Keith Giffen, Adam Beechen, Justin Gray, Jimmy Palmiotti and Sean McKeever. Art by Ron Lim, Carlos Magno, Al Barrionuevo, Jesus Saiz, Scott Kolins and others. Cover by Adam Kubert.

DC Direct Action Figures
JLA Classified: Classic Series 1 Action Figures
Based on the art of Ed McGuinness

Some of the most requested DC Direct action figures are back by popular demand! These classic interpretations of some of the core Justice League characters have been revamped and reactivated with enhanced, revised colors. Perfect for both collectors who missed out on these figures the first time around, as well as those just starting their collections! Each figure features multiple points of articulation and a base.
Includes: The Flash, Superman, Batman, Wonder Woman
March 25, 2009

Share