This week we have the first collected edition from the current Flash relaunch, featuring Mark Waid's brief return to the title. Several Flashes also appear in Final Crisis.
Flash: The Wild Wests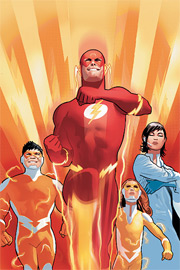 Wally West returns to active duty as the Flash — with the addition of his two children — in this amazing hardcover collecting The Flash #231-237, guest-starring the Justice League! What's his dark, dark family secret — the one that's helping him keep the peace in Keystone? This volume also includes "The Fast Life," by Mark Waid, John Rogers and Doug Braithwaite — the compelling tale of the West family's life on a Flash-friendly alien world.
Written by Mark Waid, John Rogers and Keith Champagne; Art by Daniel Acuña, Freddie Williams II and Doug Braithwaite; Cover by Acuña.
Notes: It's odd that this would be the first Flash collection to come out in hardcover (not counting the archive editions), given how many people disliked the direction the series took. (Personally, I wasn't wowed by it, but I enjoyed it well enough, and it led into Tom Peyer's run, which I've really liked.)
This was originally scheduled for last week, but pushed back. Oddly enough, I saw a copy at Freddie Williams II's table in Artist's Alley the weekend before the original release date.

Final Crisis #3 of 7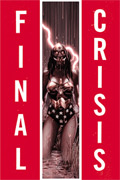 Batman missing in action! Superman immobilized! Green Lantern on trial for his life!
A shadow is falling across Earth's super heroes — and now it's Wonder Woman's turn to face the Evil Gods!
What bizarre warning from beyond awaits Frankenstein, The Question and the agents of S.H.A.D.E. in the shadows of the Dark Side Club? What grim fate lies in store for The Human Flame? What happens when the Anti-Life Equation hits the internet? Can the Fastest Men Alive outrun The Black Racer — Death himself? And who are the Justifiers?
The answers are all here as the unstoppable rise of evil continues in FINAL CRISIS #3 by Grant Morrison and J.G. Jones.
Notes: We all saw what happened at the end of the last issue. It seemed obvious from the cliffhanger, but just in case, the three fans who read the B&W preview at Comic-Con have assured us that yes, Barry Allen does appear in this issue. And then there's the four-page preview released yesterday…
Edit: Either I misread the release date, or Tangent: Superman's Reign has been rescheduled. It's actually coming out August 20.
Share