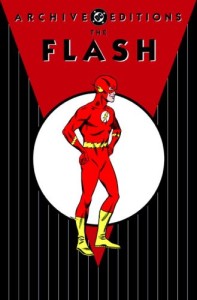 Keith Dallas (author of The Flash Companion) spotted The Flash Archives Volume 5 on Amazon.com, with a release date of March 10, 2009.
The detail page doesn't list contents, just that it's 248 pages. Like most of DC's Archive Editions, the list price is $50 (still less than it would cost to track down the originals in decent condition), but Amazon is currently offering it at a 37% discount.
Dallas figures that it most likely contains stories from the Silver Age Flash #133–140, which would include:
the introduction of Professor Zoom (#139) and Heat Wave (#140);
stories with Abra Kadabra (#133), Captain Cold (#134), Mirror Master (#136) and Pied Piper (#138);
another Jay Garrick/Barry Allen team-up, this one involving the entire Justice Society of America against Vandal Savage (in fact, this is the first JSA appearance of the Silver Age);
and the tale of Kid Flash finally losing the "Mini-Me" costume for the yellow one he joined the Teen Titans with (#135)
Interestingly enough, going through Flash #140 would exactly match the current span of the cheaper, black-and-white Showcase Presents: The Flash collections (volumes 1 and 2).
Update (October 2008): The official solicitation is out, and it covers #133-141 — one more issue than predicted. The additional issue contains another milestone: the first appearance of the Rogues' tailor, Paul Gambi.


Share