DC's solicitations for comics shipping in November are up, and things don't look terribly good for Wally West's future. It's beginning to look like DC wants to clear the deck before starting over with Flash: Rebirth.
The Flash #246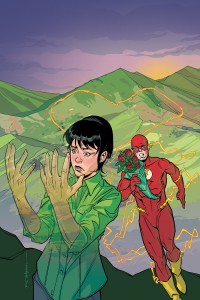 As Queen Bee circles in closer for the kill, everything The Flash holds dear starts slipping away from him. His powers, his wife — what's next to go?
On sale November 19. Written by Alan Burnett. Art by Carlo Barberi & Drew Geraci. Cover by Brian Stelfreeze.
Notes: Interesting that Paco Diaz has been replaced by Carlo Barberi — who used to draw Impulse. Also, this doesn't look good for some of the things I want to see after Flash: Rebirth.

Team books and tie-ins after the cut.
Team Books and Events
Final Crisis #6 of 7

Written by Grant Morrison
Art and covers by J.G. Jones and Carlos Pacheco & Jesus Merino
As the entire world turns against them, the last of Earth's Super Heroes must face the unstoppable power of the Gods of Apokolips for the final time. Supergirl vs. Mary Marvel! Superman vs. Darkseid! The fate of the Flash! And the incredible return of the New Gods! The End of Days has come and the ultimate war between good and evil will at last be decided on the battlefield of a broken world!
And as the skies bleed, as the walls between universes crumble and fall, the ultimate threat to life makes its presence felt as an evil beyond imagining arrives to claim its prize. Mandrakk the Dark Monitor is coming and the DC Multiverse will never be the same again!
On sale November 26
Notes: The fate of the Flash? That doesn't sound promising. The last time we saw that tagline, it was Crisis on Infinite Earths #8, and Barry Allen died. Though things seem to be pretty messed up in general. I'm beginning to wonder if they can resolve this without either rebooting the multiverse such that it never happened, going back in time to just before the end of Final Crisis #3, or spinning off the entire line into an alternate universe.
And also: Mandrakk the Dark Monitor? Okaaaayyyy….
Justice League of America #27

Written by Dwayne McDuffie
Art and cover by Ed Benes
A "Sightings" tale! Doctor Light is missing, and her former Justice League teammates intend to find the man responsible and make him pay. But before they do that, they'll have to get past his Shadow Cabinet of powerful superbeings who have sworn to "Save humanity from itself." Milestone Comics characters Icon and Hardware make their first modern DCU appearance, but this time it's not clear whose side they're on!
On sale November 19.
Justice Society of America #21

Written by Geoff Johns & Alex Ross
Art by Dale Eaglesham & Nathan Massengill
Cover by Alex Ross
Variant cover by Dale Eaglesham & Nathan Massengill
The penultimate chapter of the epic "One World, Under Gog" explodes here as the Justice Society of America goes to war with one another. Torn between Gog's desire to help the world and the moral cost it comes with, it's old guard vs. the new as the line that was drawn is crossed. But Gog does not like war…
On sale November 26.

This month also sees a trio of Kingdom Come specials, some of which may or may not include Jay Garrick, the Kingdom Come Flash, or the Kingdom Come Kid Flash.
Justice Society of America: Kingdom Come Special: The Kingdom
Justice Society of America: Kingdom Come Special: Magog
Justice Society of America: Kingdom Come Special: Superman
Tangent: Superman's Reign #9 of 12

Written by Dan Jurgens and Ron Marz
Art by Wes Craig and Mark McKenna
Cover by Brad Walker
It's Batman and Batman vs. the world! The Tangent Batman's group of "Outsiders" must hold their ground against the Tangent Superman's armada!
On sale November 19.
Notes: The Flash (Wally West) and the Tangent Flash have played a role in this series from the first issue, which featured them sharing the cover.

Titans #7

Written by Judd Winick
Art and cover by Howard Porter
Match, the imperfect clone of Conner Kent, shows up at the Tower looking for a fight. But the Titans' old teammate Jericho is still trapped inside him! To subdue Match and save Jericho, the Titans must find a way to force the two apart, and their solution has unexpected consequences for them all!
On sale November 12.
Advance Solicitations (December and Beyond)
Justice League of America: Sanctuary (Hardcover)

Written by Dwayne McDuffie and Alan Burnett.
Art by Ed Benes & Sandra Hope, Jonboy Meyers & Serge LaPointe, Carlos Pacheco and Ethan Van Sciver.
Cover by Ed Benes.
The Justice League face off with the Suicide Squad when a cabal of Super-Villains turn themselves over to the Super Heroes for protection – much to the chagrin of Amanda Waller and her super-team. Tying directly into Salvation Run, this volume collects Justice League of America #17-21 and also features a team-up between Wonder Woman and The Flash drawn by The Flash: Rebirth artist Ethan Van Sciver!
On sale January 21.
Notes: That Flash/Wonder Woman team-up in Justice League of America #20 was one of the best Flash stories since Infinite Crisis. Also, it may be worth noting that the villain was the Queen Bee, who features heavily in the upcoming "This Was Your Life, Wally West" arc.

Titans: Old Friends (Hardcover)

Written by Judd Winick
Art by Ian Churchill, Joe Benitez
Cover by Joe Benitez & Victor Llamas
The former teen heroes known as the Teen Titans are all grown up and under siege in this hardcover collecting Titans #1-6 as well as the hard-to-find one-shot Teen Titans East Special #1!
On sale January 14.

Showcase Presents: The Brave and the Bold: Batman Team-Ups Vol. 3

Written by Bob Haney
Art and cover by Jim Aparo
Enjoy over 500 pages of adventure with this collection featuring THE BRAVE & THE BOLD #109-134 as Batman teams with dozens of DC favorites including The Demon, Mister Miracle, Aquaman, The Flash and many more!
On sale December 17.

Justice Society of America Series 1 Action Figures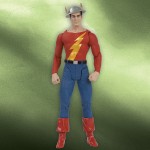 Designed by Alex Ross
Based on the painted covers of the Justice Society of America series, award-winning artist Alex Ross' unique interpretations of DC Comics' Golden Age characters have been turned into action figures! Amazingly realistic, the Justice Society of America figures are must-haves!
These figures are in scale with other Ross-designed series, including Justice and Kingdom Come. Each figure features multiple points of articulation and a base. 4-color peggable window box packaging.
Figures included:
Starman – 7.25″ h
Golden Age The Flash – 7.5″ h
Golden Age Green Lantern – 7.5″ h
Sandman – 7.5″ h
On sale April 15, 2009
Previously Announced for November
JLA/Avengers TP

The once-in-a-lifetime crossover that brought two super-teams together and rocked the comics world is at last available in trade paperback! Own the entire 4-issue co-publishing event between DC and Marvel and written by Kurt Busiek (TRINITY, Marvels) with stunning art by George Pérez (Final Crisis: Legion of Three Worlds, Avengers). This collection also features introductions by original Avengers writer/editor Stan Lee and Justice League of America editor Julius Schwartz.
November 12, 2008. Written by Kurt Busiek. Art and cover by George Pérez.

Countdown to Final Crisis vol.4 TP

The fourth and final Countdown to Final Crisis TP is here, collecting stories from issues #12-1 and featuring an all-new cover by Adam Kubert! Don't miss this epic's conclusion, starring Jimmy Olsen, Mary Marvel and The Challengers from Beyond.
November 19, 2008. Written by Paul Dini, Keith Giffen, Adam Beechen, Justin Gray, Jimmy Palmiotti and Sean McKeever. Art by Ron Lim, Carlos Magno, Al Barrionuevo, Jesus Saiz, Scott Kolins and others. Cover by Adam Kubert.

Justice Society of America: Thy Kingdom Come Book 2
The Kingdom Come Superman continues to crusade against evil alongside his new Justice Society teammates — but is he the only one who can stand against the threat of Magog? And what are Gog's true motives? This hard-hitting new volume collects Justice Society of America #13–18!
November 26, 2008. Written by Geoff Johns and Alex Ross; Art by Dale Eaglesham and Ruy Jose; Cover by Alex Ross.
Share