The Hero Initiative has released a variant edition of Marvel Apes #1, penciled by the late Mike Wieringo and inked by Karl Kesel.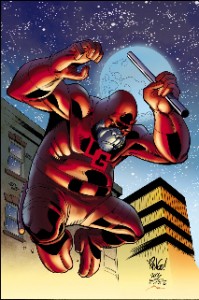 Daregorilla, the Ape Without Fear, penciled before Mike's passing.
Marvel Apes writer and cover inker Karl Kesel said:
It was a blast working on Marvel Apes — one of the most far-out, fun assignments I've ever had! And inking Mike Wieringo's "Daregorilla" variant cover only made it better. This drawing is one of the initial inspirations for the entire mini-series — chances are the comic would have never happened without it — so this cover brings everything full circle. And it's only fitting that it helps The Hero Initiative, because Mike was a big believer in giving back to the comics community, and that's exactly what The Hero Initiative is all about.
The book is limited to only 3000 copies worldwide and is available now at Atomic Comics. Retail price is $8, and the book will also be available at the Hero Initiative booth at the Baltimore Comic-Con (Sep. 27–28), Mid-Ohio Con (Oct. 4–5), Adventure Con (Oct. 25–26) and Wizard World Texas (Nov. 7–9).
The Hero Initiative is dedicated to helping comic book creators in need. Hero creates a financial safety net for yesterdays' creators who may need emergency medical aid, financial support for essentials of life, and an avenue back into paying work.
(Adapted from the Hero Initiative's press release.)
(Edit: Fixed the typo in the title. *sigh*)
Share