The preview of DC's December 2008 solicitations is up at Newsarama and CBR. Here are the Flash-related books listed so far.
Update: Full solicitations are up. Read on!
The Flash #247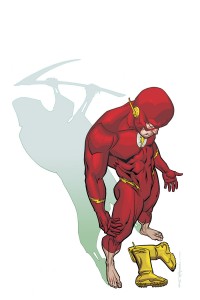 Written by Alan Burnett
Art by Carlo Barberi & Drew Geraci
Cover by Brian Stelfreeze
"This Was Your Life, Wally West" concludes! As Flash stands alone without his powers or family to support him, only one question remains – is this end of the Fastest Man Alive?
On sale December 24 • 32 pg, FC, $2.99 US
Notes: Surpisingly enough, the solicitation doesn't actually say that it's the last issue.

Team books and events appear after the cut.
Team Books and Events
Final Crisis: Secret Files #1

Written by Grant Morrison & Peter J. Tomasi
Art by Frank Quitely & various
Covers by Frank Quitely and Jim Lee & Scott Williams
Finally, the secrets of this year's most talked about event can be revealed! Witness how Darkseid's death shattered the Multiverse, creating continuity ripples throughout the DC Universe! Submit to Darkseid and read the full Anti-Life Equation! This is a book you cannot resist to buy!
On sale December 24 • 40 pg, FC, $3.99 US
Notes: I find this very interesting for several reasons. First, it's clearly meant in part to be "spackle" to fix the continuity gaffes between Countdown, Death of the New Gods, and Final Crisis. (Morrison mentioned this at San Diego's Final Crisis Management panel, and later in his IGN interview.) Second, it's probably a delay to allow them more time to finish up Final Crisis #7, which is conspicuously missing from a preview set that includes the Secret Files book, Revelations, and Legion of Three Worlds. (Rogues' Revenge will already be finished by then.)
Final Crisis: Legion of Three Worlds #4

Written by Geoff Johns
Art by George Pérez & Scott Koblish
Covers by George Pérez
Don't miss this issue as lightning strikes again in the DC Universe! The Crisis of the 31st century continues as a great hero falls and another returns to help Superman and the Legion combat the murderous Superboy-Prime! Meanwhile, the Time Trapper makes his move against the three Legion founders, Polar Boy's bizarre mission comes to an end and Superman makes a shocking discovery that will redefine the terms of this war. [emphasis added]
On sale December 24 • 4 of 5 • 40 pg, FC, $3.99 US
Notes Still hinting at the return of Bart Allen, and this time, Brainiac 5 is holding the celebrated lightning rod. It's worth noting that issue #3 was recently pushed back to December 3.
Justice League of America #28

Written by Dwayne McDuffie
Art and cover by Ed Benes
The Shadow Cabinet has stolen the mortal remains of Dr. Light. The Justice League has vowed to bring them down. Plus, Shadow Thief has returned deadlier than ever before, and you won't believe the source of his new powers.
On sale December 24 • 32 pg, FC, $2.99 US
Notes: I don't actually see the Flash on the cover, but Wally West has been appearing a bit more regularly in the book over the last few issues.
Justice Society of America #22

Written by Geoff Johns & Alex Ross
Art by Alex Ross and Dale Eaglesham & Nathan Massengill
Cover by Alex Ross
Variant cover by Dale Eaglesham & Nathan Massengill
Concluding the sequel to Kingdom Come and featuring several pages of painted interiors by Alex Ross! The Justice Society have had their greatest wishes granted, but at what deadly price? As war breaks out among the Justice Society, the cost of Gog's watchful eye comes to light. But removing Gog from Earth will cost more than they could ever imagine. This finale will leave the Justice Society torn apart…and see a new team rise out of the ashes!
On sale December 31 • 32 pg, FC, $2.99 US
Notes: Jay Garrick is, of course, a regular in the Justice Society.
Titans #8

Written by Judd Winick
Art and cover by Howard Porter
There's a traitor in the Titans' midst, and the entire Tower is under lockdown until the team can discover which member could betray them. The problem is, there's no real way to investigate, since the traitor is now a sleeper agent!
On sale December 10 • 32 pg, FC, $2.99 US
Notes: What? The Titans have to deal with a traitor? Wow, that's never ever happened before! *grumble*
Tangent: Superman's Reign #10

Written by Dan Jurgens and Ron Marz
Art by Wes Craig, Dan Davis, Andie Tong and Mark McKenna
Cover by Brad Walker
The fate of the Tangent Earth stands in the crosshairs! It will take the combined efforts of two worlds to save billions of lives! It's Superman vs. Superman – and when the dust clears only one of them will be left standing!
On sale December 17 • 10 of 12, 32 pg, FC, $2.99 US
DCU Holiday Special 2008

Written by Alan Burnett, Franco Aureliani & Art Baltazar, Dan DiDio and others
Art by Rodolfo Migliari, Kevin Maguire, Ian Churchill, Tim Levins, Yishan Li and others
Cover by Frank Quitely
Celebrate the holiday as the Justice League of America host a surprise party guest! Dr. Light aids with the Festival of Lights and Nightwing delivers a special gift to Robin. Plus the super-secret origin of Santa Claus!
On sale December 17 • 80 pg, FC, $5.99 US
Notes: There's no telling whether there might be a Flash story in here, but with Alan Burnett as the current writer it wouldn't surprise me. Flash stories appeared in last year's Halloween special and 2006's Christmas special.
Advance Solicitations
The Flash: Emergency Stop TP

Written by Grant Morrison & Mark Millar
Art by Paul Ryan & John Nyberg
Cover by Steve Lightle
At last, DC collects the fast-paced 1990s epic by Grant Morrison (Final Crisis) and Mark Millar (Civil War) from The Flash #130-135! Confined to a wheelchair after a run-in with the mystery villain known only as The Suit, how can The Flash protect Keystone City from evil run amok?
On Sale January 21 • 144 pg, FC, $12.99 US
Notes: There's been a lot of speculation as to what's actually included in this trade. Now we know, it's the first half of the Morrison/Millar run. So that includes "Emergency Stop" itself, plus two stand-alone issues (including the fantastic Jay Garrick spotlight from #134) and, oddly enough, the third part of "Three of a Kind," the crossover with Green Lantern and Green Arrow.
Justice Vol.3 TP

Written by Jim Krueger & Alex Ross
Art by Doug Braithwaite & Alex Ross
Cover by Alex Ross
The final volume of the lushly illustrated maxiseries, featuring issues #9-12, is now available in trade paperback! The Super-Villains' plot to exploit the innocent thickens as the heroes discover that it may even affect their comrades! Guest-starring Black Adam, The Marvel Family, Doom Patrol, The Metal Men, The Titans, Supergirl and more!
Advance-solicited; on sale January 7 * 160 pg, FC, $14.99 US
Justice League of America: The Lightning Saga TP

Written by Brad Meltzer & Geoff Johns
Art by Ed Benes, Shane Davis, Dale Eaglesham, Jim Lee, Adam Kubert, George Perez and others Cover by Alex Ross
Two super-teams join forces in this volume collecting JUSTICE LEAGUE OF AMERICA #0 and #8-12 and JUSTICE SOCIETY OF AMERICA #5-6! The JLA has discovered the presence of several members of the Legion of Super-Heroes in the present!
Advance-solicited; on sale January 21 • 224 pg, FC, $12.99 US
Share