This week's Flash appearances include Justice League of America — as Impulse! — a Justice Society of America trade paperback, and possibly DCU: Decisions and Trinity.
Justice League of America #26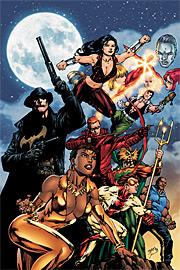 Written by Dwayne McDuffie; Art and Cover by Ed Benes
The JLA stands helpless against the power of Anansi, the African spider god who has warped their histories. Vixen makes her final stand, brokering a deal with the powerful villain. But will she be forced to sacrifice the JLA and Animal Man? Or does her last-ditch effort mean something far worse?
[Note: Yes, that's Impulse on the cover!]

Justice Society of America Vol.1: The Next Age (paperback)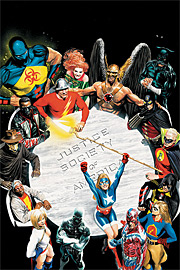 Written by Geoff Johns Cover by Alex Ross; Art by Dale Eaglesham, Art Thibert and Ruy Jose
The book collecting the first four issues of JUSTICE SOCIETY OF AMERICA is now available in trade paperback! Determined to rebuild the Justice Society, Green Lantern, Flash and Wildcat initiate a recruitment program, tracking heroes across the world and bringing in the new Starman, Damage, Liberty Belle and more!

Also likely candidates for Flash appearances: DC Universe: Decisions #4 (conclusion of the miniseries) and Trinity.
Share