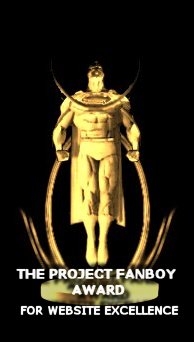 I just found out that Speed Force won the October 2008 Project Fanboy Award! (That explains the traffic I was getting from them last week!)
I remember the first ever website award I got was for the "Site of the Week" award from what was then called Jonah Weiland's Comic Book Resources. A lot of fan sites would give out awards back in the late 1990s, and then it sort of fell out of fashion. It's cool that there are sites still doing it — and it's cool to have actually been honored by one!
Thanks to whoever nominated Speed Force for the award, and thanks to the Project Fanboy staff!

Share