Titans #11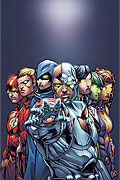 Written by Judd Winick
Art and cover by Howard Porter
Shaken by the loss of one of their teammates, the Titans attempt to regroup and move on. But they discover that their problems aren't even close to over as their past comes back to haunt them in this prelude to the major "Deathtrap" crossover with Teen Titans starting next month!
32 pg, FC, $2.99 US

Showcase Presents: Justice League of America Vol.4

Written by Gardner Fox and Dennis O'Neil
Art by Mike Sekowsky, Dick Dillin, Sid Greene,
George Roussos and Joe Giella
Cover by Neal Adams
The JLA continues to fight evil in this new bargain-priced volume collection Justice League of America #61-83. These epic tales feature the JLA debuts of the Red Tornado and Black Canary, plus the annual adventure with the Justice Society of America!
544 pg, B&W, $16.99 US

Justice League International Vol.4 (HC)

Written by Keith Giffen & J.M. DeMatteis
Art by Kevin Maguire, Ty Templeton, Mike McKone, Bill Willingham, Joe Rubinstein and Dick Giordano
Cover by Kevin Maguire & Joe Rubinstein
The 1980s adventures of the Justice League continue! This new volume collects Justice League International #23-25 and Justice League America #26-30.
208 pg, FC, $24.99 US

Super Friends: For Justice! (TP)

Written by Sholly Fisch
Art by Dario Brizuela, Joe Staton, Stewart McKay, Horacio Ottolini, Phil Moy and Mike DeCarlo
Cover by J. Bone
Stories from the first seven SUPER FRIENDS issues unite in a new collection of stories inspired by the red-hot line of action figures from Mattel! Filled with exciting, all-ages adventure, this volume features the Justice League facing some of their greatest foes, including Amazo and Gorilla Grodd!
144 pg, FC, $12.99 US

As usual, there's a good chance of the Flash appearing in Trinity as well.
Share