It's been a week since the opening salvo of Flash: Rebirth, and this week's comics feature Wally West's team, the Titans, as the Titans/Teen Titans/Vigilante crossover begins.
Titans #12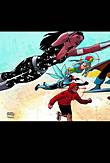 Written by Judd Winick
Art by Howard Porter
Cover by Andrew Robinson
"Deathtrap" Part 1 of 5! Completely unhinged, Jericho continues his assault upon his former teammates. As if that wasn't enough, he also draws the Teen Titans into his twisted plot. And the Vigilante makes it his mission to stop Jericho — permanently! Continued in Vigilante #5!
32 pg, FC, $2.99 US

Justice League Unlimited: Heroes TP

Written by Adam Beechen, Mike McAvennie & Bill Williams
Art by Carlo Barberi, Rick Burchett, Leigh Gallagher, Sanford Green and others
Justice League Unlimited #23-29 are collected in this new title starring The World's Greatest Super Heroes!
144 pg, FC, $12.99 US

Share