It's another light week, with just one Flash appearance coming out (and one Kid Flash)…but it's the first issue of Wednesday Comics, DC's experimental newspaper-sized weekly series that runs through the summer.
Wednesday Comics #1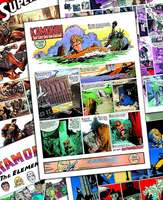 In July, DC Comics gives a fresh twist to a grand comics tradition with Wednesday Comics, a new, weekly 12-issue series by some of the greatest names in comics today!
Wednesday Comics is unique in modern comics history: Reinventing the classic weekly newspaper comics section, it is a 16-page weekly that unfolds to a sprawling 28" x 20" tabloid-sized reading experience bursting with mind-blowing color, action and excitement, with each feature on its own 14" x 20" page.
Spearheaded by DCU Editorial Art Director Mark Chiarello, whose past editing credits include Batman: Black & White, DC: The New Frontier and Solo, each page of Wednesday Comics spotlights the continuing adventures of DC heroes, including:
Batman, Wednesday Comics' weekly cover feature, by the Eisner Award-winning 100 BULLETS team of writer Brian Azzarello and artist Eduardo Risso
Adam Strange, by writer/artist Paul Pope (Batman: Year 100)
Metamorpho, written by New York Times best-selling writer Neil Gaiman with art by Eisner Award-winner Michael Allred (Madman)
The Demon and Catwoman, written by Walter Simonson (Thor, Manhunter) with art by famed DC cover artist Brian Stelfreeze
Deadman, written by Dave Bullock and Vinton Heuck, art by Dave Bullock
Kamandi, written by Dave Gibbons (Watchmen, Green Lantern Corps) with art by Ryan Sook (Buffy The Vampire Slayer, Arkham Asylum: Living Hell)
Superman, written by John Arcudi (The Mask) with art by Lee Bermejo (Joker)
Wonder Woman, written and illustrated by Ben Caldwell (Dare Detectives)
Green Lantern, written by Kurt Busiek (Trinity, Astro City) with art by Joe Quiñones (Teen Titans Go!)
Teen Titans, written by Eddie Berganza with art by Sean Galloway
Supergirl, written by Jimmy Palmiotti (Jonah Hex) with art by Amanda Conner (Power Girl)
Hawkman, written and illustrated by Kyle Baker (Plastic Man, Special Forces)
Sgt. Rock, written by Adam Kubert (Superman: Last Son), illustrated by legendary comics artist Joe Kubert
The Flash, written by Karl Kerschl (Teen Titans: Year One, The Flash: The Fastest Man Alive) and Brenden Fletcher, illustrated by Karl Kerschl
Metal Men, written by Dan DiDio with art by Ian Churchill (Supergirl)
Wednesday Comics will arrive in stores folded twice to 7" x 10", with the first issue set to reach stores on July 8.
7" x 10", 16 pg, FC, $3.99 US
Booster Gold #22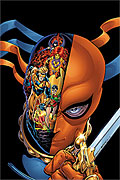 Written by Keith Giffen; co-feature written by Matthew Sturges; Art by Dan Jurgens and Norm Rapmund; co-feature Art by Mike Norton; Cover by Dan Jurgens and Norm Rapmund
"Day of Death" part 2! Booster Gold travels back in time to prevent the Black Beetle from killing the New Titans, but who will save Booster Gold from the Black Beetle — and what role will Deathstroke play?
And in the all-new Blue Beetle co-feature, Jaime must battle a flying robot army from destroying all of the people in El Paso!
40pg – $3.99 US
Note: This slipped my notice the first time through, but Booster Gold is going back to the time when Wally West was on the team as Kid Flash. Also: Newsarama has a preview of the issue.
Share