DC's full solicitations for October are up at Newsarama and elsewhere, and there's no sign of a Flash book the month after Flash: Rebirth is scheduled to wrap. And the Flash: Blackest Night miniseries won't start until November, after the first round of tie-in miniseries are finished. Will readers see a month without a Flash book?
I suspect not, and here's why:
With Comic-Con International just two days away, DC may be keeping the news of the Flash relaunch in reserve for a big announcement at the convention.
With Flash: Rebirth #4 running 3 weeks behind, and #6 scheduled for the last week of September, it's likely that issues #5 and #6 will be pushed back, with the miniseries wrapping in October instead.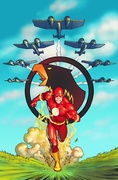 Of course, the Flash won't be completely missing in any case: the Scarlet Speedster is co-starring in Brave and the Bold, and there are the various team books and Blackest Night. I'll post a full run-down later tonight.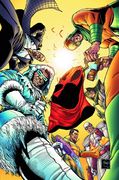 Also worth checking out: DC has announced the contents of the upcoming November trade paperback collection, The Flash vs. the Rogues: they're all stories from the early Silver Age, many of them first appearances: Showcase #8, The Flash #105, 106, 110, 113, 117, 122, 140 & 155. Oddly, the cover they're using with the solicitations is from a 2007 issue of the short-lived Flash: The Fastest Man Alive.

Share