DC Comics Classics Library: Flash of Two Worlds HC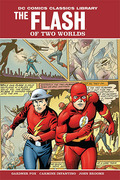 Written by Gardner Fox and John Broome
Art by Carmine Infantino, Joe Giella and Sid Greene
Cover by Carmine Infantino & Murphy Anderson
The super-speedsters of two worlds race into adventure in this new collection of tales! Learn how police scientist Barry Allen, The Flash of the 1960s, first crossed paths with his predecessor, Jay Garrick, in this hardcover featuring The Flash #123, 129, 137, 151 and 173.
144 pg, FC, $39.99 US.

Booster Gold: Reality Lost TP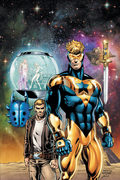 Written by Chuck Dixon and Dan Jurgens
Art and cover by Dan Jurgens and Norm Rapmund
In this new volume, longtime BATMAN writer Chuck Dixon pens a story in which a time-traveling villain attempts to destroy Gotham City. And in a story written and drawn by Dan Jurgens, Booster discovers the timestream has been inexplicably altered, unleashing all types of anomalies only he can put back in order. Featuring Booster Gold #11-12 and #15-19!
168 pg, FC, $14.99 US
Note: This includes a story in which Booster Gold travels back in time to the night that Barry Allen is struck by lightning.

Wednesday Comics #5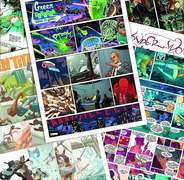 Wednesday Comics, DC's spectacular 12-issue weekly series, continues to offer a comics experience unlike any other this August. In its second month, don't miss the action in these continuing features:
The Metal Men encounter a deadly guest-villain in a story written by Dan DiDio with art by Jose Luis Garcia-Lopez.
The Flash battles Gorilla Grodd and tries to date Iris West in a story written by Karl Kerschl (Teen Titans Year One, The Flash: The Fastest Man Alive) and Brenden Fletcher with art by Karl Kerschl.
Supergirl attempts to deal with Streaky and Krypto gone bad in a story written by Jimmy Palmiotti (Jonah Hex) with art by Amanda Conner (Power Girl).
Green Lantern must help a fellow test pilot whose space mission has transformed him into a monster in a story written by Kurt Busiek (Trinity, Astro City) with art by Joe Quiñones (Teen Titans Go!).
Superman questions his heroic mission while on a trip to Smallville in a story written by John Arcudi (The Mask) with art by Lee Bermejo (Joker).
Adam Strange takes a truly twisted journey into space in a story by writer/artist Paul Pope (Batman: Year 100).
Wonder Woman is lost in a dream world in search of her lost tiara, bracelets and magic lasso in a story written and illustrated by Ben Caldwell (Dare Detectives).
The Teen Titans are attacked by Trident in a story written by Eddie Berganza with art by Sean Galloway.
Batman, Wednesday Comics' weekly cover feature, by the Eisner Award-winning 100 Bullets team of writer Brian Azzarello and artist Eduardo Risso.
Metamorpho, written by New York Times best-selling writer Neil Gaiman with art by Eisner Award-winner Michael Allred (Madman).
The Demon and Catwoman, written by Walter Simonson (Thor, Manhunter) with art by famed DC cover artist Brian Stelfreeze.
Deadman, written by Dave Bullock and Vinton Heuck, art by Dave Bullock.
Kamandi, written by Dave Gibbons (Watchmen, Green Lantern Corps) with art by Ryan Sook (Buffy The Vampire Slayer, Arkham Asylum: Living Hell).
Hawkman, written and illustrated by Kyle Baker (Plastic Man, Special Forces).
Sgt. Rock, written by Adam Kubert (Superman: Last Son), illustrated by legendary comics artist Joe Kubert.
Wednesday Comics will arrive in stores folded twice to 7″ x 10″.
7″ x 10″, 16 pg, FC, $3.99 US.
Share