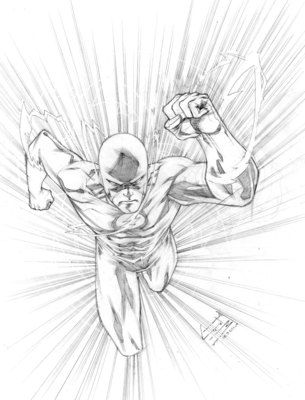 The Source has posted some Flash sketches by Francis Manapul. They look great, and IMO should reassure fans who have been apprehensive about his selection as artist on the new series. Manapul plans to ink and watercolor the art himself, similar to the style he's using for Adventure Comics.
The artist adds some new wrinkles to the Flash transition timeline:
These were done a while back near the end of my Legion run. I tried to make a go at the Flash and these were the sketches I did as a pitch to try and get the book. It was nixed as Geoff and I decided to do Adventure Comics (which I love and will miss very much). However the opportunity to get on the scarlett speedster arose and so here we are.
That would have been about a year ago, right? Flash: Rebirth would have been announced, but not solicited, with people speculating that it would start anywhere from January to March (it ended up launching in April). I suppose if Flash: Rebirth had been 6 issues starting in January and stayed on time, DC could have launched a Flash ongoing series in July — right around the time that they launched Adventure Comics. Hmm…
Share