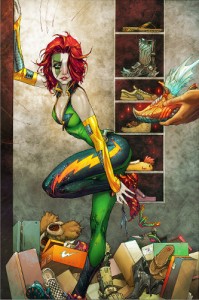 Wally West isn't the only red-headed speedster out there. Velocity, winner of Top Cow's first Pilot Season, will finally be getting her own series this May.
Well, sort of.
Velocity has been a member of Cyberforce since it launched in the early 1990s, and has had two solo books: a 1995 miniseries by Kurt Busiek and Anthony Chun, and a one-shot in 2007 by Joe Casey and Kevin Maguire. The one-shot was part of Top Cow's "Pilot Season" event: they released several "first issues" of potential series and asked fans to vote on which one should be picked up. Velocity won, and Top Cow went on to prepare a series. Joe Casey returned, and ChrisCross took over as artist.
That series never actually launched, though. Casey wrote three issues, ChrisCross drew one full issue and several covers, but the book was delayed several times and finally scrapped due to creative differences. With their newly found free time, Joe Casey and ChrisCross went over to DC and did Final Crisis Aftermath: Dance.
Return
Top Cow has announced a new Velocity miniseries starting in May, written by Ron Marz and drawn by Kenneth Rocafort (who did variant covers for the unlaunched series).
Carin Taylor is the fastest woman in the world. At least, she'd better be if she wants to save her own life and the lives of her Cyberforce teammates. When a former Cyberdata scientist — and test subject — seeks revenge against the members of Cyberforce, only Velocity can save her friends before the clock literally runs out.
Ron Marz remarked to UGO:
I've been getting to use the supernatural side of the Top Cow Universe as my playground for a while now, so I jumped at the chance to write one of my favorites from the superhero/tech side.
In some ways it does fulfill the promise of Pilot Season, in terms of the character finally getting a book, but it's an entirely new creative team. And it's a four-issue limited series, not an ongoing. I guess after two and a half years Top Cow wanted to test the waters again. Kind of a shame, given how rare it is to find and ongoing speedster comic that's not The Flash (or Sonic the Hedgehog), but it's probably sensible not to rely too much on the buzz from 2007.
Share