Justice League: The Rise and Fall Special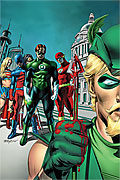 40 pg, FC, $3.99 US
Written by JAMES ROBINSON & J.T. KRUL
Art and 1:25 variant cover by MIKE MAYHEW
Cover by MAURO CASCIOLI
Following the stunning conclusion to JUSTICE LEAGUE: CRY FOR JUSTICE comes the next epic chapter for the Worlds Greatest Heroes. What controversial decision has created a split in the League? A new meaning to the term "hunt for justice" creates fear in the villain populace. Plus, a shocking secret is revealed that will change Green Arrow's life forever.

Super Friends #25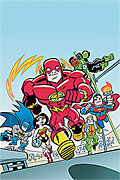 32 pg, FC, $2.50 US
Written by SHOLLY FISCH · Art by DARIO BRIZUELA
Cover by J. BONE
To commemorate 25 glorious issues, were sending the team to compete in the Space Olympics! Of course, if they lose, Earth will be destroyed — but no need to tell them that!

Share