The new issue of Comic-Con Magazine (originally the newsletter for Comic-Con International) is up, with a focus on comic book writers and an extensive interview with Geoff Johns. At one point, the interviewer asks about a Flash: Secret Origin story.
I will be doing the Flash Secret Origin. He's never had a secret origin book….with Green Lantern Secret Origin, it's a book now and that book actually outsells the other GL trades because you look at it if you're in a bookstore or whatever and that's the first one you'll pick up because it looks like that's the first volume….the Flash Secret Origin will be one of those books that you can hand to anybody.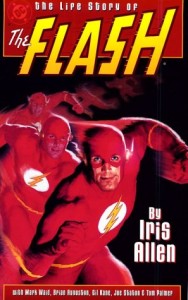 Johns has previously said that he'd like to do a Secret Origin of the Flash, but it sounds a lot more definite now. Though of course, we've seen DC's plans for the Flash change many times over the last few years.
He doesn't say when the story will be told, or whether it will be in the main book like Green Lantern: Secret Origin or in a separate miniseries like Superman: Secret Origin.
I wouldn't agree that the Flash has never had a secret origin book, though. Certainly Mark Waid & Brian Augustyn's The Life Story of the Flash would fit the bill. Yes, it's 13 years old now, and Geoff Johns has wiped out the entire first third of the book with Eobard Thawne's time travel shenanigans in Flash: Rebirth, but it does exist. Unless Superboy-Prime somehow punched it out of existence. I should go check my longboxes and make sure it's still there… 😀
Tip of the hat to @SpeedsterSite for catching this!
Share