Definite and likely Flash appearances this week:
The Flash: Secret Files and Origins 2010 #1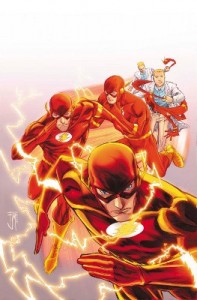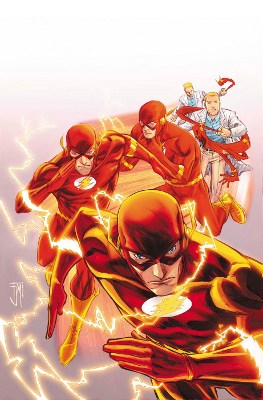 Flash Facts! In the aftermath of BLACKEST NIGHT and THE FLASH: REBIRTH comes the beginning of a new era for Barry Allen and the deadly Rogues! As Barry readjusts to life again, strange happenings explode across Central City that will lead to one of the most bizarre murder mysteries Barry will ever face in the upcoming THE FLASH #1! Plus, don't miss Wally West, Kid Flash, Gorilla Grodd and a cold case that will send The Flash down a path unlike any other. Run — don't walk — to pick it up!
48 pg, FC, $3.99 US
Written by GEOFF JOHNS
Art by SCOTT KOLINS, FRANCIS MANAPUL & OTHERS
Cover by FRANCIS MANAPUL

JSA All-Stars #5
40 pg, FC, $3.99 US
Written by MATTHEW STURGES
Co-feature written by JEN VAN METER
Art and cover by FREDDIE WILLIAMS II
Co-feature art by TRAVIS MOORE & DAN GREEN
The Injustice Society may have found the All-Stars' new headquarters, but Cyclone, of all people, has found a way to turn their own allies against them! Meanwhile, Stargirl shares an intimate moment with a teammate, which could be a BIG mistake!
And in the co-feature, the search for the mysterious Staff of Life leads to some strange partnerships when their objectives force Liberty Belle and Tigress to pair up in order to find Hourman and Icicle!
JSA: Thy Kingdom Come Parth Three TP
224 pg, FC $19.99 US
Written by GEOFF JOHNS, ALEX ROSS & PETER TOMASI
Art by ALEX ROSS, DALE EAGLESHAM, FERNANDO PASARIN & NATHAN MASSENGILL
Cover by ALEX ROSS
Collecting JUSTICE SOCIETY OF AMERICA #19-22 and the JUSTICE SOCIETY: KINGDOM COME Specials MAGOG, SUPERMAN and THE KINGDOM, now in trade paperback! Picking up where PART TWO left off, The Justice Society begins to dissolve as Gog vows to bring peace to Earth in a way that frightens some and thrills others. Torn between Gog's desire to help the world and the moral cost it comes with, its old guard vs. new as the line that was drawn is crossed.
Share