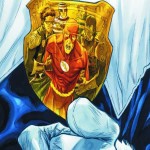 Just a quick note to highlight some upcoming Flash (and other speedster) releases…
July 28 – The Flash #4 is on schedule for release next week, confirmed on Diamond's upcoming releases list.
August 11 – Team-Ups of the Brave and the Bold Vol.1 hardcover featuring JMS' Flash/Blackhawks story from last October, hits comic stores on this date. (Amazon gets it August 17.)
August 20 – "Requiem for a Scarlet Speedster," the Flash Family episode of Batman: The Brave and the Bold, may be airing in the US on this date, according to Wikipedia. I can't find another source to confirm it, though.
August 25 – Flash #5 and Velocity #2 according to DC's website and Top Cow's calendar. Image's website shows Guardians of the Globe #1 (introducing the speedster Outrun to the Invincible-verse) on this date as well.
Share