I guess they must have been out of this when I hit the comic store last week, because I have been keeping an eye out for the White Lantern variant covers featuring the Brightest Day resurrections. Giant Size Geek spotlights the Green Lantern Corps #51 cover, which features a White Lantern Professor Zoom: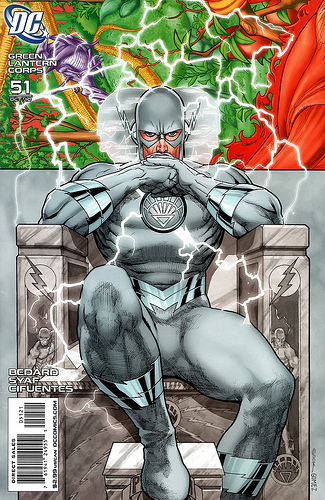 Click through to the original post for a larger view of this impressive Ryan Sook [edit: and Fernando Pasarin and Joel Gomez] piece.
With two Flash-related characters resurrected at the end of Blackest Night, I've been wondering which would appear on the next Flash variant cover…and where the other would appear. Presumably, this means a White Lantern version of Captain Boomerang will appear on the alternate cover for Flash #5 next month. It's an appropriate choice, considering that Boomerang is involved in the current storyline in The Flash, but the Reverse-Flash is not.
Share