Another interesting item showed up on DC's December solicitations (preview up now, full list available on Monday):
Teen Titans: Cold Case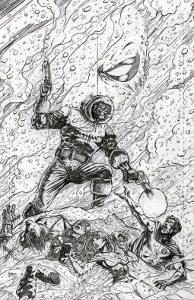 Written by MARK SABLE
Art by SEAN MURPHY
Cover by JAY FABOK
Don't miss this untold tale from writer Mark Sable (Grounded, TWO-FACE: YEAR ONE) and red-hot artist Sean Murphy (JOE THE BARBARIAN) bringing the Teen Titans and The Flash's Rogues Gallery into direct conflict! Two people already died over a mysterious object, and now both teams want it. How much more blood will be spilled to obtain it as this gets deadly personal for all involved?
ONE-SHOT * On sale DECEMBER 22 * 56 pg, FC, $4.99 US
Notes: I'm guessing that by "untold tale," DC only means that it's set in the past. Though I suppose they could be dusting off an old two-part story that's been sitting on a shelf for a while.
With Cyborg, Ravager, Wonder Girl (Cassie) and Robin on the cover, I'd guess it's probably early in the "One Year Later" period right after Infinite Crisis and 52, before the Rogues were dragged into Flash: The Fastest Man Alive and shipped off to Salvation Run.
Share