Two long-delayed speedster comics are coming out this week!
The Flash #5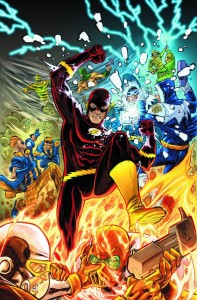 BRIGHTEST DAY continues with a shocking connection to the White Light as Captain Boomerang and the Reverse-Flash experience a bizarre event that ties them together. Meanwhile, it's the Rogues vs. the Renegades with The Flash caught in the middle!
Written by GEOFF JOHNS
Art and cover by FRANCIS MANAPUL
1:10 White Lantern Variant cover by RYAN SOOK, FERNANDO PASARIN & JOEL GOMEZ
Other DC Speedster Appearances
JSA: Black Adam and Isis TPB – Jay Garrick and Liberty Belle both appear in this story.
Justice League of America #49 – Jesse Quick has joined the League. (And don't miss Flash artist Francis Manapul's variant cover)
The World's Greatest Super-Heroes (Alex Ross/Paul Dini) – Barry Allen appears in the two JLA stories.
Velocity #2 (of 4)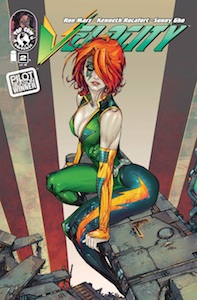 As the members of Cyberforce lay dying from a fatal techno-virus, their only hope for survival is their teammate Velocity. Carin Taylor has never been more in need of her super-speed as the races around the globe, trying to find and cure her teammates before the same virus kills her. The issue continues the inaugural creative union of writer Ron Marz (Witchblade, Angelus) and artist Kenneth Rocafort (Cyberforce/Hunter-Killer).
Notes: I've read an advance PDF of Velocity #2, and it's definitely worth checking out. I should have a review up later tonight. Update: Here's my review!
CBR has a 5-page preview of the book.
Share