Here's the week's super-speed releases.
Flash Chronicles Vol.2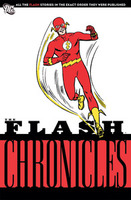 Written by JOHN BROOME · Art by CARMINE INFANTINO, JOE GIELLA, FRANK GIACOIA & MURPHY ANDERSON
Cover by CARMINE INFANTINO & MURPHY ANDERSON
In this second volume, Barry Allen's rogues gallery expands with the addition of Gorilla Grodd, the Mirror Master and the Weather Wizard, plus the debuts of Kid Flash and the Elongated Man! Collecting THE FLASH #107-112.
160 pg, FC, $14.99 US
More DC Speedsters
Justice Society of America #43 (starring Flash Jay Garrick)
Teen Titans #87 (starring Kid Flash Bart Allen)
Time Masters #3 (upcoming issues will feature the Reverse-Flash)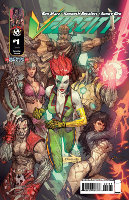 Other Speedsters
Also, Top Cow is selling the Baltimore Comic Con edition of Velocity #1 with a cover by Michael Broussard. I'm a little fuzzy on how "exclusive" these books are, unless they're selling the excess through retail channels, or the exclusivity has an expiration date.
Share