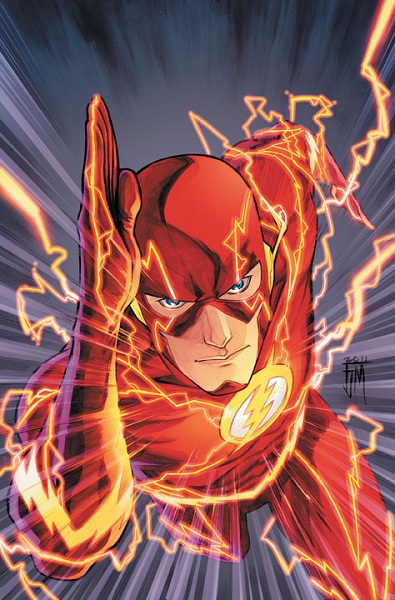 DC has announced ten of the new titles and their creative teams launching as part of their massive universe-wide revamp this September, including The Flash #1.
Rising superstar Francis Manapul, fresh off his acclaimed run on THE FLASH with Geoff Johns, makes his comics writing debut in THE FLASH #1, sharing both scripting and art duties with Brian Buccellato. The Flash knows he can't be everywhere at once, but what happens when he faces an all-new villain who can? The cover to issue #1 is by Francis Manapul and Brian Buccellato.
Francis Manapul and Brian Buccellato on art? An all-new villain in the first issue?
DC just found a way to keep me reading!
Obviously Manapul as a writer is an unknown quantity, but I love his art on the book, and the way Buccellato colors it. And assigning him the book now seems like a clear vote of confidence from DC upper management, further supporting the idea that he wasn't solely responsible for the delays in Flash vol.3. I'd hazard a guess that a big part of it was Geoff Johns being tied up with preparations for the universe-wide reboot. That's got to have been time consuming.
Update: Francis Manapul, addressing concerns about the team's writing experience, posted the following on Twitter:
https://twitter.com/#!/FrancisManapul/statuses/76339587789766656
As far as what's in store for the Scarlet Speedster:
https://twitter.com/#!/FrancisManapul/status/76343324516159488
Buccellato adds:
https://twitter.com/#!/BrianBooch/status/76344568219570176
Update: Here's why I'm calling this Flash vol.4.
Update: Bob Wayne's second letter to retailers insists: "this is the launch of the New DCU. It is not a 'reboot.' I think you will soon discover why that is." My take, based on what I've seen in today's announcements, is that they're basically doing what they did after Crisis on Infinite Earths, just in a more coordinated manner. The key difference being, it seems that this isn't going all the way back to the beginning for every character. We'll have to see what that means for the Flash. I just hope it means we won't be reading updated versions of old stories every few months.
(More reports & commentary: CNN, Comics Alliance, The Beat, Comics Should Be Good, Robot 6, Comics Nexus, Newsarama, Firestorm Fan.)
Share