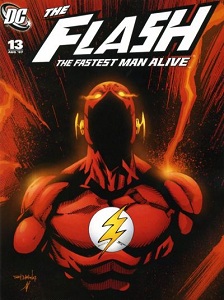 At Newsarama, Michael Doran speculates that the DC Comics Relaunch could mean a switch to "seasonal" numbering. Basically, instead of starting a comic book at #1 and continuing indefinitely until the market and editorial whim dictate cancellation or relaunch, each series would start over at #1 every year. He compares it to television seasons, which have individual episodes and, when written long-form, tend to have a season premiere and a season finale.
Now, there's something to like about that, particularly if DC commits to publishing an entire "season" of every series they solicit. No more scrambling to tie up loose ends when a series is canceled mid-storyline. The writers know they've got 12 issues to work with, and if the series does well, they've got 12 more, but they at least know where the axe is going to fall if they get canceled.
But I don't think it goes far enough.
It works great if you've got 12-issue stories, but if you've got a 6-issue story, two one-shots and a 4-issue story, what ties them together as a volume? And what happens when someone picks up Flash #1 and wants to read what's next, but there are fifteen comics called Flash #2 and the store on their smartphone doesn't show enough detail? Or worse, it shows the year, but the numbering launches in September, so the reader goes from Flash #4 (2012) to Flash #5 (2012) and ends up jumping backward by a year.
You know what would be better than seasonal numbering?
Chapter numbering.
Make every story arc a miniseries. Make every done-in-one a special. Just like we had Flash: Rebirth #1-6, instead of Flash #9 containing part 1 of "The Road to Flashpoint," the book should have been titled Flash: The Road to Flashpoint #1.
A lot of indie and creator-owned series do this already, in part because it tends to be harder to scrape together the time and budget to release on a monthly schedule, but it can work just as well whether you're releasing 6 issues a year or 12. And if things get delayed, you've got natural breaking points.
It simplifies the "where do I start" question by at least making sure you can start at the beginning of a story. On the downside, it means readers trying to catch up on older stories need to figure out whether "The Road to Flashpoint" comes before or after "The Dastardly Death of the Rogues," but anyone reading comics in collected trades or hardcovers already has that problem. And judging from the way prose novels are sold, readers in the bookstore audience seem to be able to figure it out.
So what do you think? If DC decided to stop long-term numbering (which, frankly, I doubt), would you like this solution, or would you prefer something else?
Share