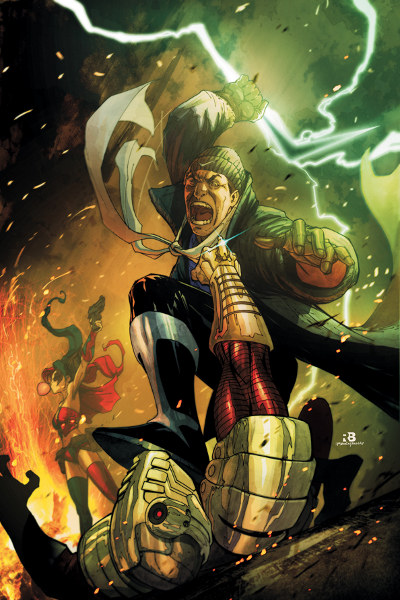 Comic Vine has DC's December "Edge" solicitations. including the cover and description for Suicide Squad #4:
SUICIDE SQUAD #4
Written by ADAM GLASS
Art by FEDERICO DALLACCHIO
Cover by DAN PANOSIAN
On sale DECEMBER 14 • 32 pg, FC, $2.99 US • RATED T+

The body count rises! Another Squad member falls – but not the way you might expect! Betrayal follows betrayal as Captain Boomerang joins the Squad in a smash-and-grab against the terrorist organization Kobra, and Harley Quinn shows why you should never, ever recruit Squad members from Arkham Asylum. Brace yourself for a last-page shocker the likes of which the Squad has never faced before!
After Crisis on Infinite Earths, most of the Rogues faded from view as DC wanted to establish new villains for Wally West. Captain Boomerang remained visible as a mainstay of the classic Suicide Squad. In fact, it was an issue of this series, not The Flash, that first really fleshed out Boomerang's origin: Suicide Squad #44 expanded on the connection between "Digger" Harkness and toy manufacturer W.W. Wiggins, revealing him to be not simply a businessman hiring a mascot to promote his product, but a father reaching out to secretly help his long-lost son. I wouldn't be surprised if that story partially inspired Brad Meltzer's decision to use Boomerang in Identity Crisis.
Share