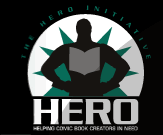 The Hero Initiative is auctioning 104 pieces of original Justice League covers to benefit creators in need. The art was donated by a variety of artists, including popular Flash creators like Francis Manapul and Scott Kolins, and will be sold at three different auctions beginning in December. Because the theme is the Justice League, there are plenty of pieces with the Flash, but also Jesse Quick, the Crime Syndicate's Johnny Quick, and even the occasional Flash foe.
See all the art pieces here, grouped by when they are to be sold. There are some fairly impressive pieces available, so even if you can't afford to buy, it's well worth a look! The site also includes details of when and where the live auctions will be held, and notes that people unable to attend will be permitted to bid by proxy. The proxy bid deadline for the first batch of covers is November 23rd, so be sure to check it out soon.
Hero Initiative is also selling hardcover and softcover books collecting all the art, available in December.
Share