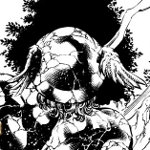 In a spoiler-filled interview at CBR, Earth 2 writer James Robinson talks about the DC Trinity, the Justice Society…and the origin of Jay Garrick, hinted at in this week's issue and coming up in issue #2.
Spoilers for Earth 2 #1!
.
.
.
.
.
In Earth 2, Jay Garrick gets his powers from the Roman god Mercury.
One of the things that you are going to see about Earth 2 is that it's not a magical place or a sorcerers' world, but it does have a slightly metaphysical feel to it. Science doesn't work exactly the same as it does on Earth Prime. With that in mind, I wanted his origin to have a slightly metaphysical element to it. And also, the only flaw with Jay Garrick in his entire career is that his origin of inhaling hard water is so vague and ill-defined, it must have been made up on the spot by the writer. This is the one thing that I'm changing; he actually gets a mantle passed to him by a dying god.

In a way, I like the fact that it almost mirrors, as a mythical version, the science fiction origin of how Hal Jordan got his powers from a dying Green Lantern. It's sort of the same thing, but obviously with Jay Garrick, what makes him special is that he isn't a cool test pilot that is born without fear like Hal Jordan — he's a unsure 21-year old college graduate that is thrust into this amazing and fantastic world and has learn how to be a superhero over the first arc of our series.
It's an interesting choice. It's true that Jay Garrick's origin is rather weak (though better than the Golden Age Whizzer getting his powers through a transfusion of mongoose blood), and I do like the explicit link to the classical speedster who inspired the original Flash's look…but I'm not so sure about what appears to be a random selection. Did Mercury choose Jay Garrick as his successor? Or was he simply nearby?
We'll find out in Earth 2 #2, on sale next month.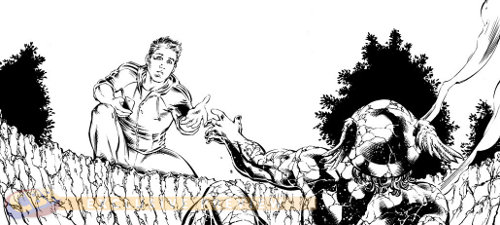 Share