Season One of the Flash TV show is done, but the comics continue through the summer, and so does DC's progress through their backlist as they add more digital editions.
This week, DC adds two Flash Annuals starring Wally West.
Flash Annual #7 (1994) is an Elseworlds tale. A battle with Captain Cold left Barry Allen dead and Wally West in a wheelchair. Now Wally wants to make a movie about Barry Allen's life and sacrifice, but Captain Cold wants the world to remember a different take on what happened. Written by Mark Wheatley; Pencils by Ed Benes; Inks by Rene Micheletti and Eddie Wagner.
Flash Annual #8 (1995) is a "Year One" tale about when Wally West first took up the Flash identity. Green Lantern and Jay Garrick intervene when a battle with Dr. Alchemy goes badly. Mark Waid, David Brewer, Mark Stegbauer. In a backup story, "Kid Flash Day Two" features the young Wally West vs. Mr. Element. Tom Peyer, Humberto Ramos, Wayne Faucher, Ken Branch.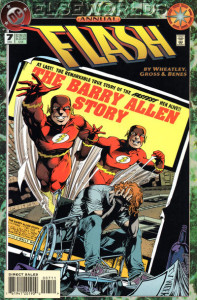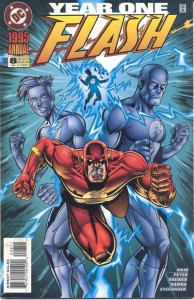 Share