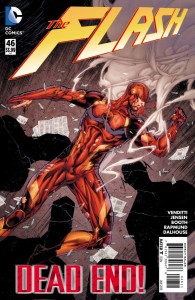 Multiversity Comics has a preview of Flash #46, out in stores on Wednesday.
THE FLASH #46
Written by ROBERT VENDITTI and VAN JENSEN
Art and cover by BRETT BOOTH and NORM RAPMUND
LOONEY TUNES Variant cover by FRANCIS MANAPUL and Warner Bros. Animation
On sale NOVEMBER 25 • 32 pg, FC, $3.99 US • RATED T

Is the missing Heat Wave dead—or alive? The Rogues reunite to find out. But the search has gone so bad that they need to enlist the help of The Flash to find out!
This seems like an odd time to bring the Rogues back in, as the Zoom Crew's story rushes to its conclusion next month. Maybe it's a temporary description that stuck.
The Flash By Geoff Johns Book One is coming out as well (this Wednesday to comic stores, next Tuesday to bookstores). This softcover collection follows up on the hardcover Omnibus series from a few years back, and according to Amazon it collects:
The Flash #164-176: Wonderland, Blood Will Run, and Birth Right.
Iron Heights
The Flash Secret Files #3
The Flash: Our Worlds at War
Share