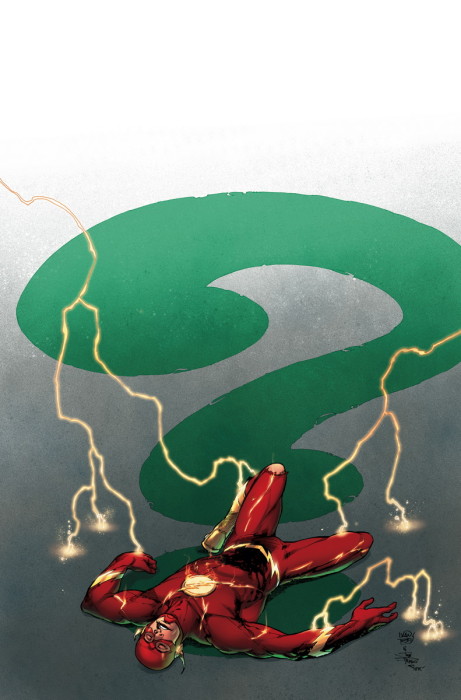 From DC's May Solicitations:
THE FLASH #52
Written by ROBERT VENDITTI and VAN JENSEN
Art by JESUS MERINO
Cover by IVAN REIS and JOE PRADO
New 52 Tribute Variant cover by JESUS MERINO
On sale MAY 25 • 32 pg, FC, $3.99 US • RATED T

The Riddler has seized control of Central City. If The Flash moves, he'll put everyone he loves in mortal danger. To save the city—and himself—he'll need help from the unlikeliest of allies.
A few things come to mind in relation to recent rumors and hints from DC. We know that Van Jensen is leaving the book (no response yet from Venditti), though it was suggested that he was leaving after #51. It looks like #52 is his actual final issue.
Speaking of final issues, contrary to rumors that "Rebirth" might be another line-wide renumbering, none of DC's main books is marked as "final issue" in the solicitations. That's not proof of anything, of course, given that we know at least Starfire is ending (Conner and Palmiotti have said that they've wrapped up a 12-issue plan and the book is ending with it), and a lot of the summaries sound like they could be either finales or epilogues.
Then again, there are several miniseries that aren't quite done, and Teen Titans #20 promises that a "game-changing epic begins."
We still don't know exactly what "Rebirth" — excuse me, #Rebirth — is, so even if it does turn out to be another reboot, relaunch or renumbering, it looks like it won't be quite so hard a line as Flashpoint/New 52 or even Convergence/DC You.
Share