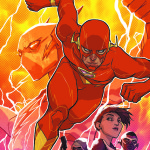 Today DC unveiled many of the details about their upcoming relaunch, DC Rebirth. This includes a new creative team on The Flash book, as well as a few hints about what we'll be seeing in it. The new title will be written by Joshua Williamson with art by Carmine Di Giandomencio and Neil Googe, and will ship twice monthly starting in June.
More news and details behind the jump.
Williamson said a Speed Force storm shows up over Central City, and there are dozens of new speedsters. Barry Allen has to train them. One in particular becomes a killer called Godspeed. The Flash cover featured the New 52 version of Wally West in some type of Kid Flash costume.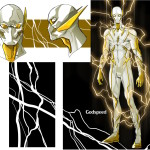 Godspeed has a neat design which is mildly reminiscent of the CWverse Zoom and The Suit, but there don't seem to be any other details available about him or her. And Wally West appears on the promotional cover as Kid Flash, as noted above, along with Iris West and Captain Cold. Cold is still using the cold gun but also seems to have ice effects on his arms, so it'll be interesting to see what his status is in the relaunch. Wally's also clearly an established hero in the promotional images, and it's not clear if we'll be seeing him become Kid Flash before Williamson's run begins in June, or if the new book will set it up or just jump ahead.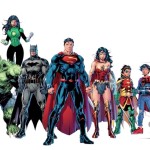 The Flash will also appear in the new Justice League title, which will be written by Bryan Hitch and drawn by Tony Daniel and Fernando Pasarin. It too will be twice-monthly, and will launch in July. There's also going to be a Teen Titans book by Ben Percy and Jonboy Meyers, but it isn't clear if Kid Flash will be part of its lineup. Wally does appear in some of the general Rebirth promotional art next to Robin and Superboy, which suggests he might appear outside The Flash book as well.
So all in all, it seems like there'll be some significant changes coming to the Flashverse and DCU as a whole. What do you think of the new creative teams and new direction of these books? Does it spark your interest, or would you rather wait and see? Feel free to share your thoughts!
Share