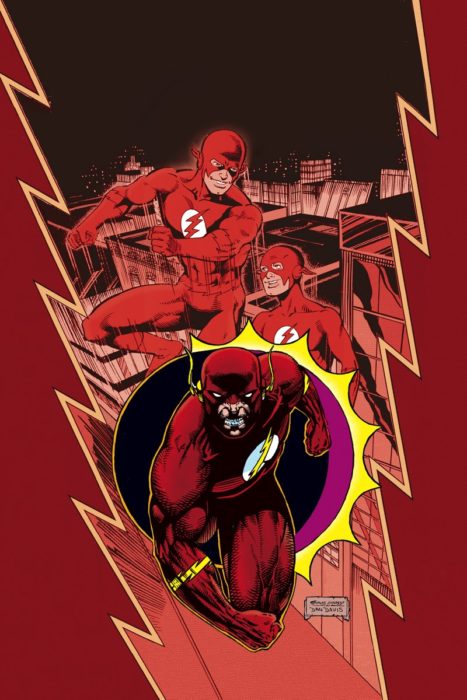 Also from DC's August solicitations, the contents and cover for Flash by Mark Waid Book One and Flash by Francis Manapul and Brian Buccellato Omnibus:
THE FLASH BY MARK WAID BOOK ONE TP
Written by MARK WAID
Art by GREG LAROCQUE, JOSE MARZAN, JR., MICHAEL COLLINS, TRAVIS CHAREST, MIKE PAROBECK and others

In 1990, Mark Waid's legendary writing career began when he scripted his first issue of THE FLASH. Waid would continue to work on Wally West for nearly a decade, building a world that would keep the character running for years. In this first volume of a new series, Young Wally West is quickly in danger—not only from The Flash's enemies, but from powers that he doesn't know how to control! Collects THE FLASH #62-68, THE FLASH ANNUAL #4-5 and THE FLASH SPECIAL #1.
On sale SEPTEMBER 7 • 368 pg, FC, $29.99 US
Now we know!
Flash Annual #4 is an alternate future in which Wally West is retired, in the witness protection program. He has to come out of hiding when his old enemies find him and kidnap his son.
Flash Annual #5 ties into Eclipso: The Darkness Within. Several of the Flash's Rogues try to steal the Black Diamond from the same museum, and things go wrong for everyone.
Flash #62-65: "Born to Run" looks back at Wally West's early days as Kid Flash.
Flash #66 guest-stars Aquaman.
Flash #67-68 bring a surprising new twist in Abra Kadabra's future history.
THE FLASH BY FRANCIS MANAPUL AND BRIAN BUCCELLATO OMNIBUS HC
Written by FRANCIS MANAPUL and BRIAN BUCCELLATO
Art by FRANCIS MANAPUL, MARCUS TO, MARCIO TAKARA and others
Cover by FRANCIS MANAPUL

A mysterious and powerful Speed-Force killer has left a trail of bodies in his wake and only Barry Allen has the power to stop him in these stories from THE FLASH #0-25, plus issue #23.2 (starring Reverse-Flash)! But when the killer stays one step ahead of him, Barry finds himself face to face with the Teen Titans and Kid Flash for the first time. All this will lead to a confrontation with The Flash's most deadly foe, the Reverse-Flash!
On sale NOVEMBER 16 • 704 pg, FC, $99.99 US
Wow…this really does cover the entire Manapul/Buccellato run! "Move Forward," "Rogues Rebellion," "Gorilla Warfare" and "Reverse!"
Share