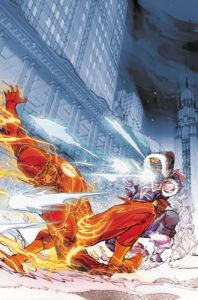 Comics Alliance has posted solicitations and covers for three DC issues in January, and one of them happens to be The Flash.
THE FLASH #14

Written by JOSHUA WILLIAMSON—Art and cover by CARMINE DI GIANDOMENICO—Variant cover by DAVE JOHNSON
"ROGUES RELOADED" part one! Central City is quiet…a little too quiet. Which means one thing: the Rogues are up to something, and only The Flash can stop them! But first Barry Allen needs to track down his classic cadre of villains, who've vanished in advance of their greatest plan ever. Plus, artist extraordinaire Carmine Di Giadomenico returns!
On sale JANUARY 11 • 32 pg, FC, $2.99 US • RATED T
You may notice that Captain Cold is looking a lot more like he did before the New 52 began, so this may be a new change as part of Rebirth. Regardless, it'll be good to see Williamson tackle the Rogues in a full story arc. I'm pretty excited!
Share