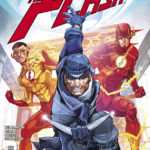 Flash #18 is due out this week, and Nerdist has a preview of the first five pages. Check it out at the link!
Flash #18
"SINS OF THE FATHER" part one! With his superhero career finally underway, Wally West must learn the truth about his father, Daniel West, the long-lost villain known as Reverse-Flash. To retrace his steps, Kid Flash and The Flash must travel to the most dangerous place in the DC Universe: Belle Reve Prison!"
Readers may remember that Reverse Flash was killed or lost in time after an explosion while working with the Suicide Squad. And that means an appearance by another familiar face, as can be seen on the cover.
Share