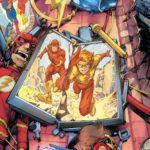 Monday brought a lot of teases for the upcoming "Flash War" storyline, in the form of some preview pages and an interview at CBR. Writer Joshua Williamson posted several coloured preview pages from Flash Annual #1 at his Twitter account, and then CBR posted the same pages plus another soon afterward. The annual is due out on January 31st, and is the prelude to "Flash War".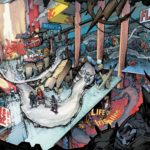 It seems that somebody has torn through the Flash Museum — possibly the Top, who returns in the issue — and has given us a look at some of the interesting easter eggs to be found inside. Most notably, the existence of the classic incarnation of Bart Allen, as well as Max Mercury, Johnny Quick, Savitar, the Tornado Twins, and John Fox. I think most of us would like to have many or all of them return to continuity and the Flashverse, so it's welcome news.
Plus, we know there will be conflict between Barry and the original Wally West during "Flash War", so there's a page of that too. Looks like the younger Wally may have to play peacemaker between them.
CBR has also posted an interview with Williamson, in which he talks a bit about what we'll be seeing in Flash issues for the coming year, including "Flash War".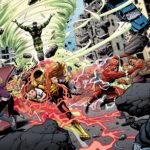 Share