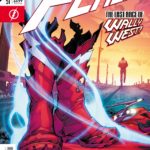 DC has posted the official six-page preview for this week's issue of The Flash, and you can read it at Den Of Geek. It's part of the fallout from "Flash War", which ended last issue, and features Iris worrying about Wally's well-being and reminiscing about his life thus far.
The variant cover is below.
THE FLASH #51
written by JOSHUA WILLIAMSON
art by SCOTT KOLINS
cover by HOWARD PORTER
variant cover by FRANCESCO MATTINA
As the dust settles in the wake of "Flash War," the Flash and his family of speedsters try to pick up the pieces of what's left. But bad blood can run deep. This is the one race the Flash Family can't win!
ON SALE 07.25.18
$2.99 US | 32 PAGES
FC | RATED T
This issue will ship with two covers. Please see the order form for details.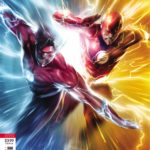 Share