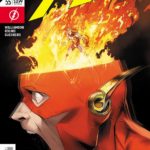 DC has posted the official preview pages for Flash #55, and you can read them at CBR. In it, Barry fights Solomon Grundy alongside the Justice League Dark, and Iris meets some of Barry's police co-workers for a night out. The issue takes place about a week after Flash #54, so Barry still has the mysterious Forces on his mind. Check out the pages at the link!
THE FLASH #55
written by JOSHUA WILLIAMSON
art by SCOTT KOLINS
cover by DAN MORA
variant cover by HOWARD PORTER
Barry Allen's CSI team gets called to the scene of an arson at Iron Heights, and the victim happens to be a well-known Flash Rogue. Barry's new partner thinks it's an inside job, the warden sending a message to the inmates about who's in charge. But the real culprit turns out to be the latest "Force" threat. Can the Flash and Commander Cold snuff this flaming mystery before it becomes an inferno?
ON SALE 09.26.18
$3.99 US | 32 PAGES
FC | RATED T
This issue will ship with two covers.
Please see the order form for details.
Share