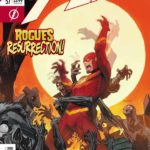 DC has posted the official preview pages for this week's issue of The Flash, and you can see them at The AV Club. In it, Barry and Detective Burns are trying to find their way out of Heat Wave's mindscape because of his infection by the Sage Force. Check it out at the link!
THE FLASH #57
written by JOSHUA WILLIAMSON
art by SCOTT KOLINS
cover by DAN MORA
variant cover by HOWARD PORTER
The insidious secret that corrupted Heat Wave's mind is free and looking for a new host—one who doesn't run quite so hot! Unfortunately, it takes over Central City Detective Burns instead, and now she's the one rampaging across the city wrecking shop! Burns must lean on an unlikely source to help her with these new powers, while Flash and Iris West make a big decision about their next move.
ON SALE 10.24.18
$3.99 US | 32 PAGES
FC | RATED T
This issue will ship with two covers.
Please see the order form for details.
Share